First impressions are critical - especially in the business world. How you represent yourself says volumes about how you do business with others, right? Putting your best foot forward, so to speak, is the name of the game. So when we received these images of the marketing offices wall panel at the Irvine Company, a major property owner of Class A office buildings in Southern California, we were impressed. Class A office buildings are the highest quality office space in their markets and are in the best locations. These buildings generally command the highest rents and the best and most sophisticated tenants. Marketing properties of this caliber require a presentation that is equally on point. We feel the Irvine Company accomplished that result - superbly.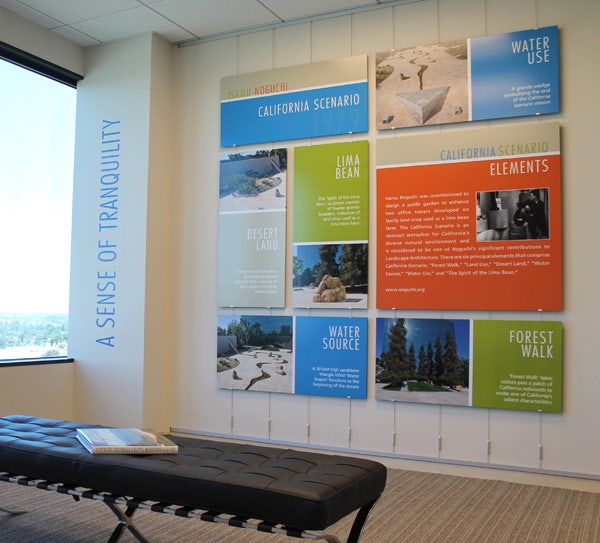 As you can see in this first photo, their approach consists of a solution comprised of Tensioned Cables based on our Click Rail Track mounted at the ceiling edge, and again, reversed, right above toe kick level. Twist-End Cables are held in tension between both tracks through the use of Twist-End Cable Tensioners. Lastly, the communication wall panels are held in place by our Panel Hooks. These are an exclusive design to AS Hanging Display Systems. They support all types of wall panel substrate and front load the panels in a neat, orderly manner so various thicknesses of panels can be presented in the same display with very professional results. These hooks are compatible with panels from 3/16 in. to 1/2 in. thick. They do all this without creating damaging thru holes in the panels. But not only was it imperative for the Irvine Company to display professionalism, with the kinds of products they market and the audience to which they must communicate, but their presentation must also be flexible.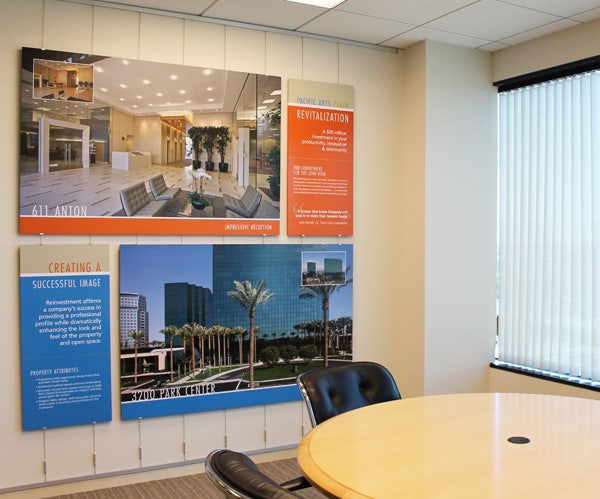 As a vacancy may motivate management to feature a specific property, the display can easily be adjusted to highlight it. It makes no difference if panel sizes are different. Since there are no holes in the panels, or walls, visual merchandizing is adaptable. This is a significant benefit of AS Hanging Systems Panel Hooks product line as opposed to the more frequently seen standoff approach to visual displays. During a morning presentation, these two buildings can be featured and during the afternoon other properties can assume the leadership role. We have all heard of just-in-time manufacturing. Think of this as just-in-time marketing or micromarketing. There is something else that was very well thought out by the designer of these Irvine Company displays. Upon close examination of the above two sister displays, you will observe that cable sets were installed even when they were not immediately needed. The above photo shows there are eight sets of cable hardware. However, only the left three and right most three sets are in use. The middle two sets are performing no function. Or, are they? Imagine if the two center cables were left off. The repeating pattern would be disrupted. The design would be visually weakened. Clearly, this designer knows a thing or two. It is a rare day when we see a designer so keen on these smaller points. Great job! Similarly, in the first photo above, cables 6 and 7 support no panels at this point. But likewise, the symmetry of the display would be lessened and the strength of those repeating columns would be lost. The design also anticipates whatever display changes may be required in the future, while keeping their display looking clean, neat, and orderly.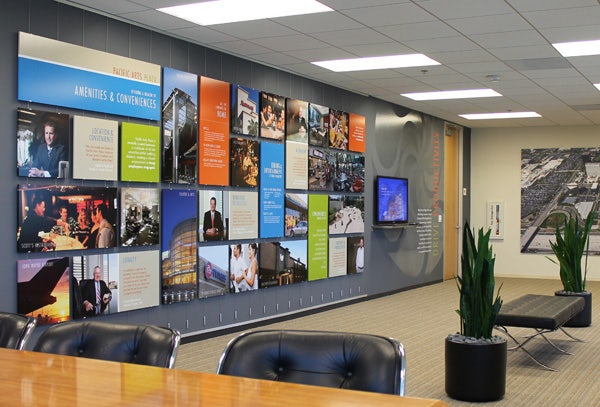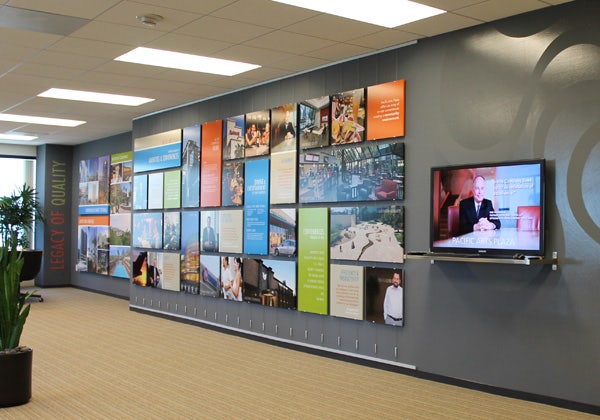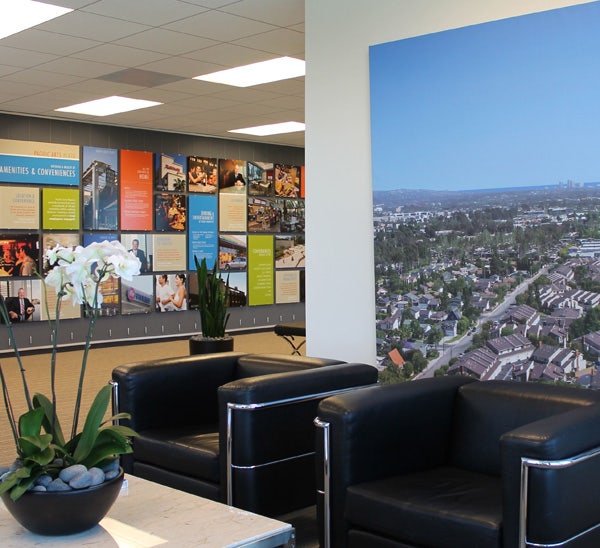 We thank the Irvine Company for sharing these beautiful photos, showcasing their well thought-out and professional displays. Being ready for change in business is vital; being flexible and capable of change in your presentation is simply great planning.
Have you discovered a new technique that might fit into your company's current or anticipated branding wall?
If you have questions or would like to learn more about how our products can be beneficial in your project, please contact our Customer Support at info@ashanging.com, or give us a call at 866 935-6949 (toll free).
When you hang with AS Hanging Systems, you Hang with the Best®