Art & Picture Hanging Systems
Click Rail Track is a discreet picture rail that blends into your decor. Sleek look for the office and residential space. Easy to install and easy to use. Change quickly and easily interior design.

IN STOCK

See full product description »
Detail : Discreet wall track, blends into any décor. Sleek look for office and residential space, offered in 4 finishes.
Finish : Anodized Silver | Painted White, Warm White, Black (textured)
Includes : 8X Click & Connect connectors, #6 x 1.25" screws, TripleGrip™ anchors
Weight Capacity : 20 lb/ft (30 kg/m)
Track Length : 72 in (6 ft)/180 cm
Installation Surface : Straight and Even Wall
Fastening : Hidden Fasteners
Compatible with : Cables, Rods
Cable/Rod Presentation : Suspended, Tensioned
Product Details
Extremely versatile and elegant, this is the perfect picture rail for your office and home. The Click Rail Track is very discreet and go unnoticed in the room, always ready to hang wall decorations and change quickly and easily any interior design.
Click Rail Track can be installed at any height on the wall even flush against the ceiling and be part of the decor such as a molding. Using the installation hardware included with each track length, mounting the track is fast and easy. The Click Rail Track supports 20 lb/ft (30 kg/m) and you can use transparent Twist-End Nylon Cord or strong Twist-End Stainless-steel Cable into any desired location along the track.
This picture rail is easy-to-use and secure and may be used as an Anti-Theft system combine with the T-End Cable.
Click Rail Track is offered in 4 finishes to blend in any decor, and it may be repainted, for example in the same color as the wall or ceiling making it nearly invisible.

Hang with the Best®
AS recommended by leading experts and your neighbors!
Let us ASsist you with your project! 1-866-935-6949
TRACK ADD-ON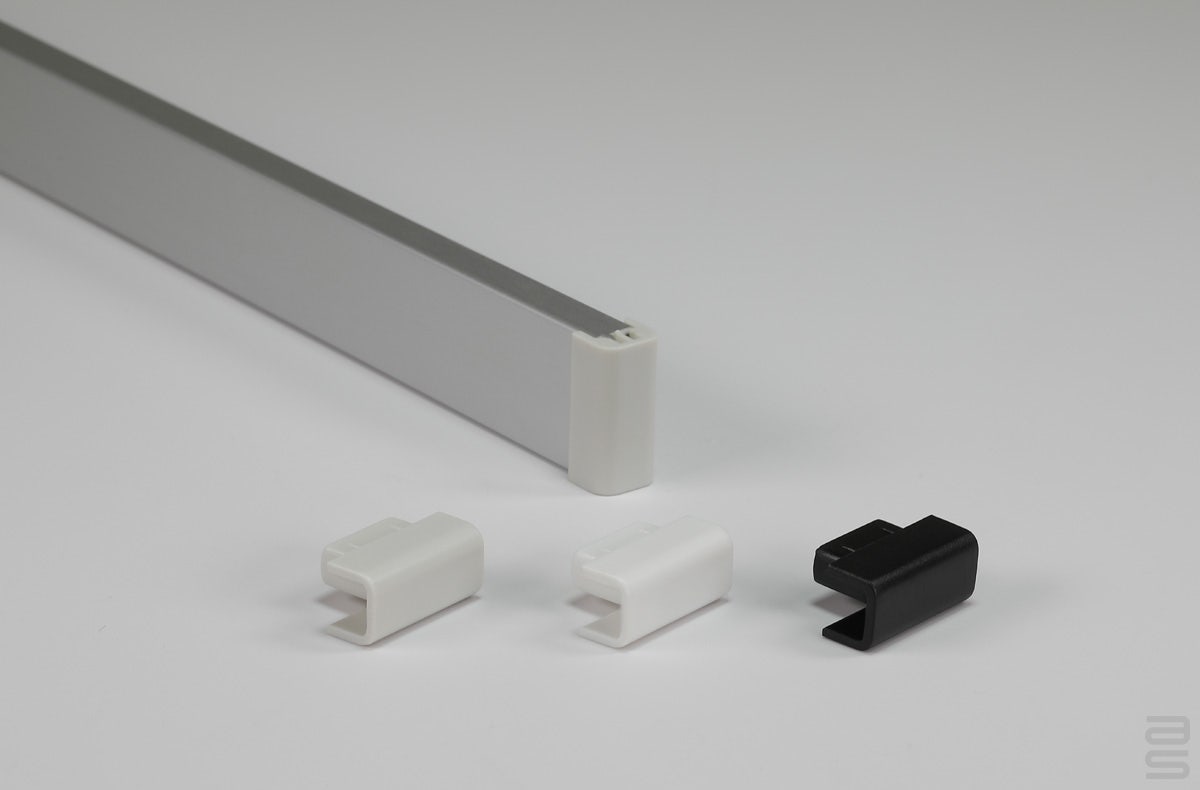 TRACK ADD-ON
Technical Specifications
SKU A1050
Material Extruded aluminum track
Finish Anodized Silver | Painted White, Warm White, Black (textured)
Includes 8X Click & Connect connectors, #6 x 1.25" screws, TripleGrip™ anchors
Weight Capacity 20 lb/ft (30 kg/m)
Track Length 72 in (6 ft)/180 cm
Capabilities Earthquake Mitigation, Anti-Theft
Installation Surface Straight and Even Wall
Mounting Style Surface, Imbedded / Flush, Hidden Behind Carpentry
Fastening Hidden Fasteners
Installation Skill Do-It-Yourself
Compatible with Cables, Rods
Cable/Rod Presentation Suspended, Tensioned
Vertical Element Compatibility Twist-End Cable, Twist-End Cord, Anti-Theft Click Rail Cable Kit, Angled Click Rail Cord Kit, T-End Cable, T-End Cord, Twist-End Cable Tensioner, T-End Cable Tensioner, Twist End Rod
Accessory Compatibility Click Rail End-Cap, Click Rail Corner Connector
Legacy Systems Families Click Rail System