Tablet Holder – iPad Wall Mount Kit
Art & Picture Hanging Systems
AS Hanging Systems offers the perfect Tablet Holder – iPad Wall Mount for your home, offices, schools, retails, etc. Easy-to-install, it is secure and fashionable. Professional presentation.

IN STOCK
See full product description »
Includes : 2 Articulated Piers Set, 4 Pro Side Clamps Large, 4 Frame Bumpers
Installation Surface : Wall
Weight Capacity : 33 lb (15 kg) per pier
Cable Presentation : Tensioned
1

Articulated Pier Set, Two Sets (pair)

4

Pro Side Clamp, Single-Sided, Large

2

Frame Bumper - 2 pieces
Product Details
We offer at AS Hanging Systems functional and aesthetic Tablet Holder – iPad Wall Mount Kit that includes 2 designed Articulated Piers Set, 4 solid large Clamps, stainless-steel cables and 4 Frame Bumpers.
Our cable fittings clamp onto the edges, sides, top and bottom, of tablets and iPad. The large size Pro Side Clamps included are compatible with tablets up to 3/8" thick. You must verify your tablet's thickness before buying this product.
Made from high-quality materials, Articulated Piers have an engineered and structured look. This fixed location architectural hardware connects tensioned steel cables to walls, ceilings and floors or other opposing horizontal surfaces and swivels 180 degrees and rotate up to 360 degrees. Tablet Wall Mount installation is fast and easy.
For this application, use the nylon tipped set screw supplied with our clamps, NOT THE CONE TIPPED SCREW, also supplied with our clamps. Be sure to install it in the correct orientation, nylon tip must be against the screen. Also, to prevent damaging your device, do not over tighten.
The cables can be trimmed to length on site, during installation. It is recommended to order a Cable Trim Kit to ease installation.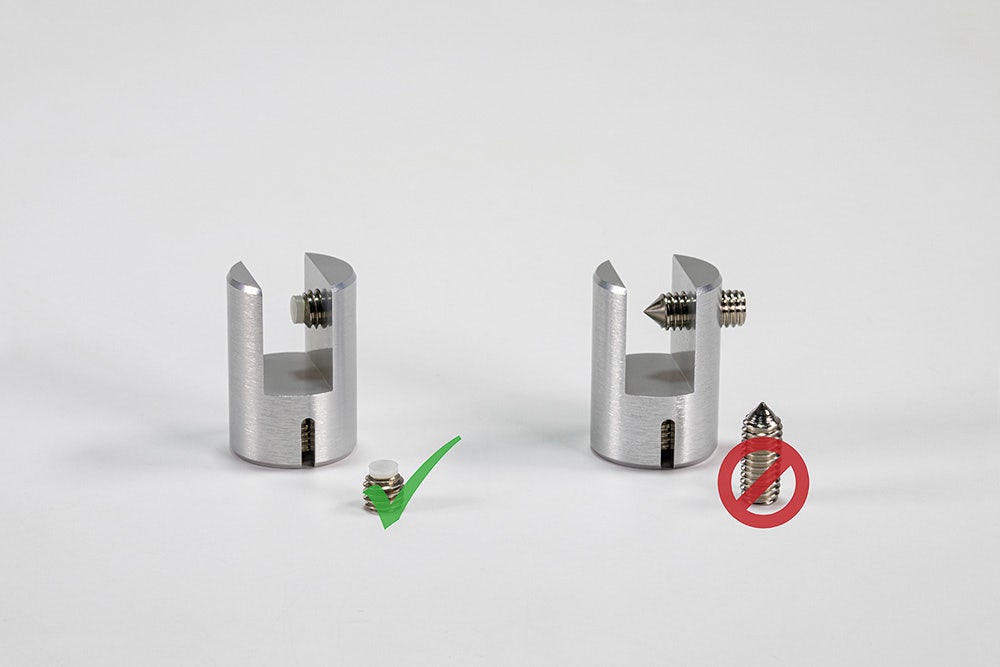 Technical Specifications
SKU K7601AA
Includes 2 Articulated Piers Set, 4 Pro Side Clamps Large, 4 Frame Bumpers
Capabilities Earthquake Mitigation
Installation Surface Wall
Weight Capacity 33 lb (15 kg) per pier
Cable Presentation Tensioned
Installation Skill Do-It-Yourself