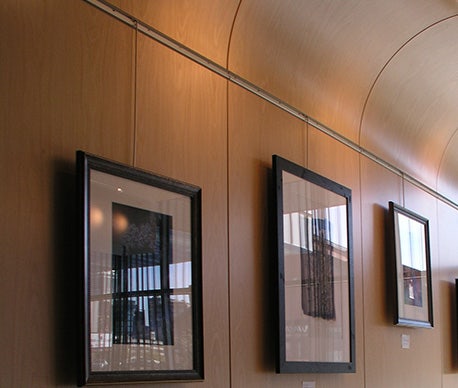 AS Hanging offers hanging rods that give a classic look to all spaces, while providing a heavy-duty weight capacity.
Made from high-quality aluminum and offered in various colors and in stainless steel for strength and durability.
Hanging rods are 4mm square and rated for up to 110 lbs load.
Always supplied with a safety cap to protect wall finishes.
Available in various lengths and colors, Hanging rod is a perfect gallery hanging system and an excellent choice for any museum.
Finish : Anodized silver, black
Weight Capacity : 70 lb (32 kg) per attachment
Compatible with : Classic Ceiling Track, Classic Wall Track, Contempo® Track, Display Reveal

Finish : Painted warm white
Weight Capacity : 45 lb (20 kg) per Steel Cable
Compatible with : Click Rail Track, Deco Rail Track, Drop Ceiling Track, Shadowline Ceiling Track, Shadowline Wall Track, Up Rail Track

Finish : Mill Finish
Weight Capacity : 110 lb (50 kg) per attachment
Compatible with : Classic Ceiling Track, Classic Wall Track, Contempo® Track, Display Reveal

Finish : Mill Finish
Weight Capacity : 110 lb (50 kg) per attachment
Compatible with : Classic Ceiling Track, Classic Wall Track, Contempo® Track

Finish : Anodized silver, champagne
Weight Capacity : 70 lb (32 kg) per attachment
Compatible with : Classic Ceiling Track, Classic Wall Track, Display Reveal

Finish : Anodized silver, champagne
Weight Capacity : 70 lb (32 kg) per attachment
Compatible with : Classic Ceiling Track, Classic Wall Track, Display Reveal