We are thrilled to celebrate 40 years in business! Time flies when you're having fun, and we have had a blast helping you create beautiful and personalized spaces with our art and picture hanging systems.
AS Hanging Display Systems is a pioneer in the art field since 1964. Since 1983, we offer professional art and picture hanging systems for all types of projects: residential, commercial, institutional, schools and universities, hospitality, office buildings, all kinds of businesses, art galleries and museums.
Thank you to our customers, partners and employees for your trust and support. We're excited to continue to push the boundaries of innovation and excellence in our industry.
---
The Beginnings
In the sixties, founder Alain Moncade opens his first gallery in Toulon, France. The adventure begins as he deploys the old type of French Gallery Rods in the gallery.
Mr. Moncade's enterprise expands. After opening a second gallery in Geneva in 1976, he decided to take the plunge and came to Canada with his family. His new and last art gallery was created in 1983 and Alain Moncade started to sell art hanging systems and picture hanging hardware.
---
Products Development

Through the Years
Product refinement takes hold. A track is needed to suit the North American market is developed. The current version of Classic Wall Track was the result and was produced here in North America, as the Classic Ceiling Track.
In 2001, AS Hanging negotiated a joint relationship with a leading European firm very active in picture hanging systems production. The introduction of a wider selection of cable system products is added to the product line and Click Rail Track is introduced to North America. This long-term collaboration with Artiteq, more than 25 years, drove AS Hanging to become the Authorized Artiteq's products distributor for North America. The collaboration benefits both partners to achieve shared goals, enhancing teamwork, creating great opportunities, developing new products, helped to be more cohesive and successful together.
---
In 2003, the company designs and produces its first proprietary rod hook, Heavy Classic Hook, now known as the Gallery Classic Hook. We upgraded this hook over the years to better answer our customer's needs. A secure version was also released.
Cable Hooks Development accelerates in leaps and bounds. In 2004, the introduction of the Mini Hook fulfills the need for a small cable hook. We refined it in 2009, then went "under the knife" in 2012 to resurface in a slotted variation. Introduced in 2009, Panel Hooks are a very good alternative to standoffs to display panels, signboards, advertising, etc. We never ended panel hook developments, so a few years after the first version, AS Hanging released the Panel Hook One-Sided Wide and a clip for the Panel Hook product line.
In 2015, the company introduced six new products that create a family called Pro Side Clamps to attach acrylic, metal, glass wood, plexiglass, etc. Top Clamps were introduced in three sizes to directly attach to either glass panels or most other rigid substrates and suspend them from any of our steel cables.
---
Picture hanging systems development saw several new introductions in 2011 including Casso® Display Rail, which was the first product in the direct hang category, using no cables or rods. Our bulletin bar allows you to show paper and thin-board items of up to 1/16 inch (2 mm)—simply insert from below. Easy to use and install, our affordable wall paper organizer can be used in countless environments: schools, general businesses, hospitals, offices and home.
We recently introduced the Casso® Magnetic Display Rail! Designed to display papers using a double rubber clamping mechanism in the rail and a magnetic area at the front of the rail.
Some useful accessories were also developed to display books, small crafts, pens, etc.: Storage Bin, Shelf,J Hanger and Label Frame, all available in black or white. They are simply attached to the rail at any desired location and be moved smoothly along the rail.
The product portfolio increased in 2008–2009 with the addition of the Tensioned Cable Systems and Pocket Display Systems.
The Tensioned Systems create neat, orderly, and secure displays by using Tracks or Piers (standoff) to tension stainless steel wires between the floor and ceiling or two horizontal surfaces. Hang panels, pictures, 3D objects, etc.
The versatility of the Acrylic Pocket System is limitless. Among the many uses for this wall pocket organizer are brag walls, real estate listings, exhibiting pictures, presenting children's artwork, and many more.
Made of 1/8 inch thick crystal clear acrylic sheet that has been fabricated into a shape of a hanging folder. We offer these pockets in four options: Portrait and Landscape orientation, in both of Letter (8.5 x 11) and Tabloid (11 x 17) sizes.
Since 2018, AS Hanging offers the perfect signage hanging system to hang panels, ads or signs from the ceiling in rooms and open spaces safely and effectively. Professional presentation.
Easy-to-use, the signage hanging system is solid and fashionable. Perfect for schools, hospitals, airports, retails, parking's, commercial business, etc. Recommended by leading experts.
Using one of our ceiling attachment, you can suspend or tensioned your panel, sign, artwork, securely. Explore your suspended options: Drop Ceiling Hanger, Fixed Piers, Classic Ceiling Track, Xpo Rail Track, Loop Hangers or Loop-End Cables. To display your objects by tensioning them between ceiling and floor or two horizontal surfaces, discover the Tensioned Fixed PIers Signage Kit or Tensioned Ceiling Tracks Signage Kit.
---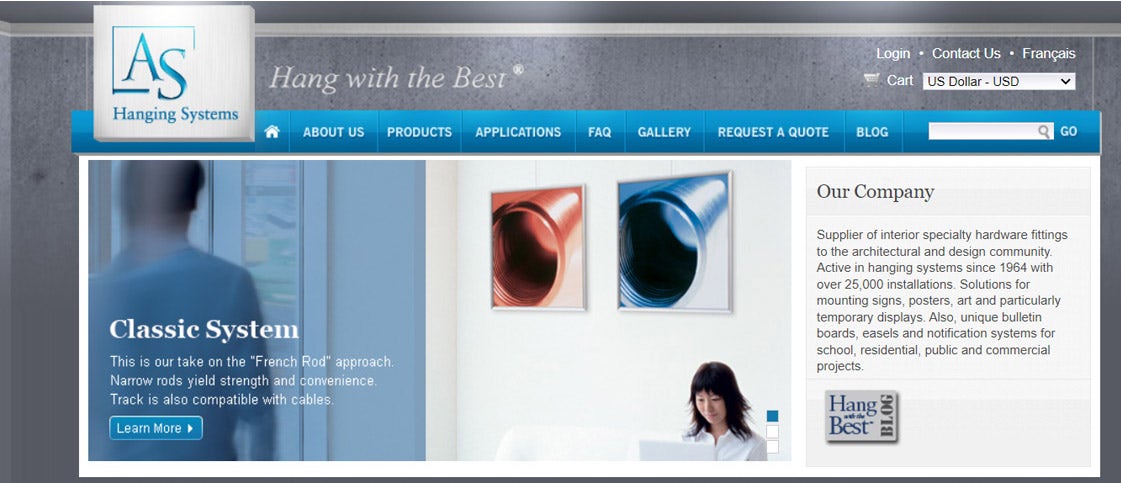 ---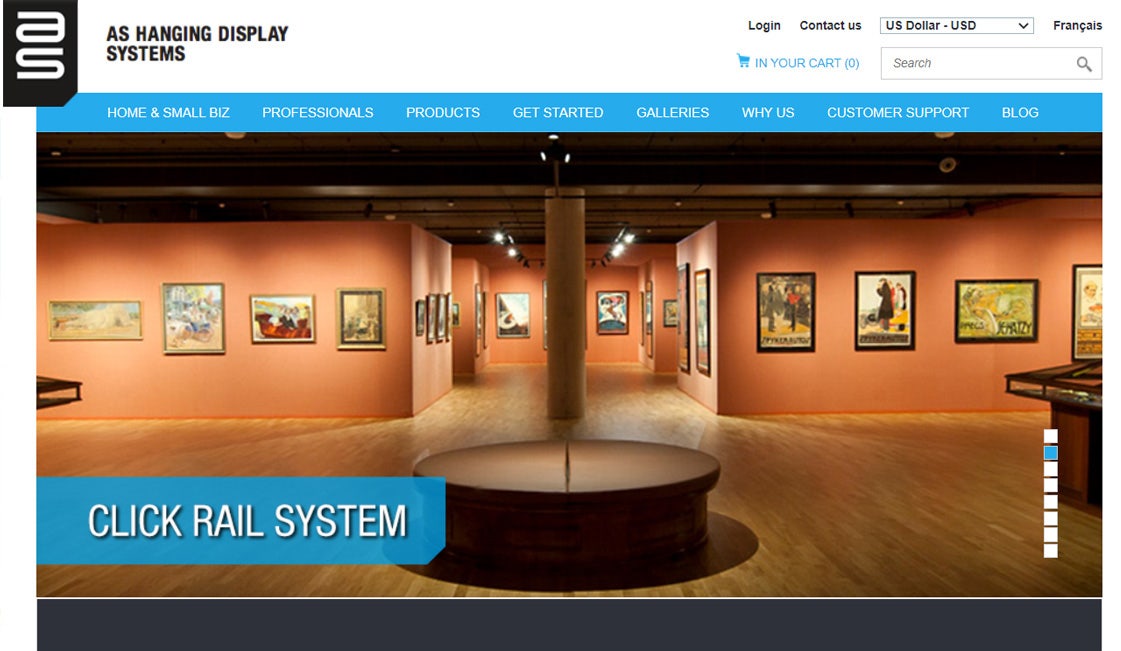 ---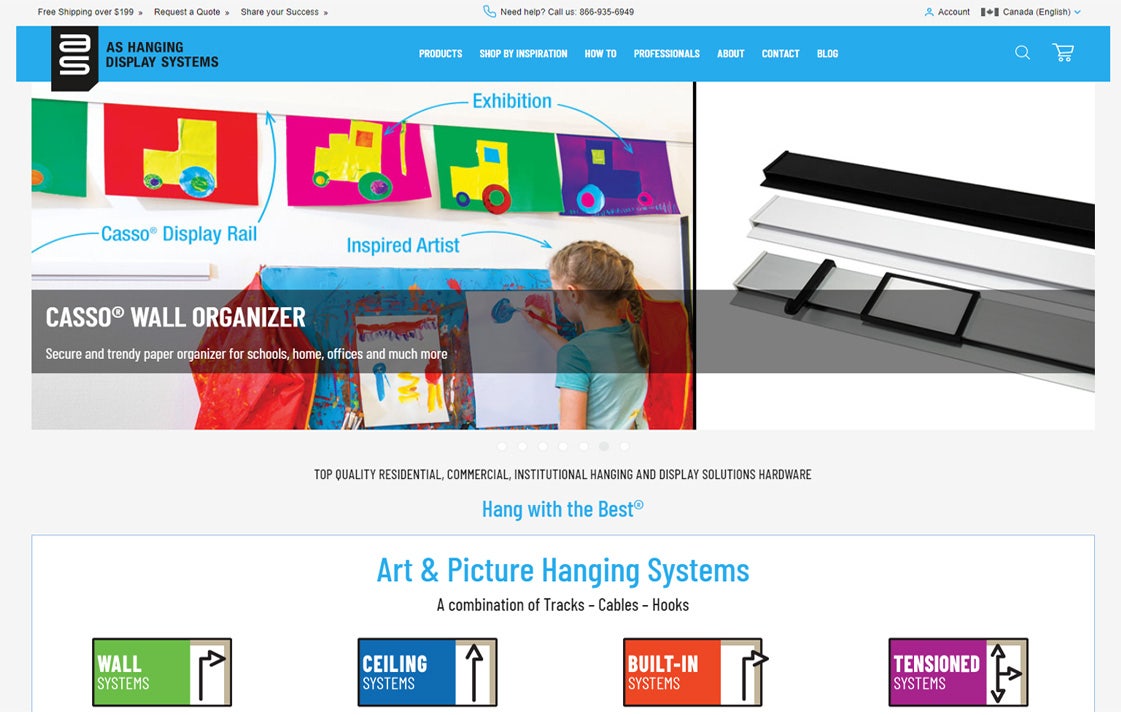 1994 … first website! A website for Galerie de l'Isle is launched. It consists of three pages: Homepage, Represented Artists, Hanging Systems. In 1999, Walter Moncade, Alain's son, opens an advertising agency. His clients, Galerie de l'Isle, asks him to develop a website to present various hanging system solutions. The first professionally developed website named "Art-System" goes public. We can feel the beginning of an epic journey!
A few years later, Walter Moncade integrates the company's order processing, CRM and inventory control into a solid e-commerce site. The company's picture hanging systems offering is split off into this new web presence under the name "Arts-Supplies.net".
In 2007, Arts-Supplies.net name changes to AS Hanging Systems to better reflect its evolving primary business sectors. The company constantly improves its Internet presence to deliver product knowledge to the expanding user base.
Nothing stops AS Hanging in the way of improvements. In 2010, the company introduced a new website, which is referred to internally as ASHanging.com 2.0. Built anew on an advanced technology platform allowed for several customer use enhancements, most notably the linkage of the web front end to a CRM, and the workflows for order processing and fulfillment. The entire website was also duplicated in French for the French-Canadian market. This allows industry-leading customer service while processing orders within 24 business hours.
The 2018 year saw the migration to a new website based on a completely new architecture, technology platform and user experience. The advancements are too numerous to list.
The company thoroughly refreshed its picture hanging systems terminology and graphical presentation. The product color swatches were immediately incorporated on the website to the delight of our customers.
In 2022, following the previous year's developments, ASHanging migrates to the Adobe Magento Cloud infrastructure for a stronger web presence. We have always been a forerunner at the cutting edge of technology, we'll continue to progress and innovate for at least another 40 years!
---
Marketing

and

Communications
To promote AS Hanging, Walter Moncade participated in 2002 in his first tradeshow, a small custom framing-oriented show in Toronto.
The following year, the company exhibited at its first tradeshow in America.
Through the years, AS Hanging Systems has participated in several tradeshows addressing the architects, art galleries, museums, custom framing and interior decor markets.
To best support the ADS community, the company developed BIM models of its products. In parallel to this effort, the company also updated its 3-part CSI formatted specs. These are very comprehensive and along with the BIM models are hosted at Arcat.com.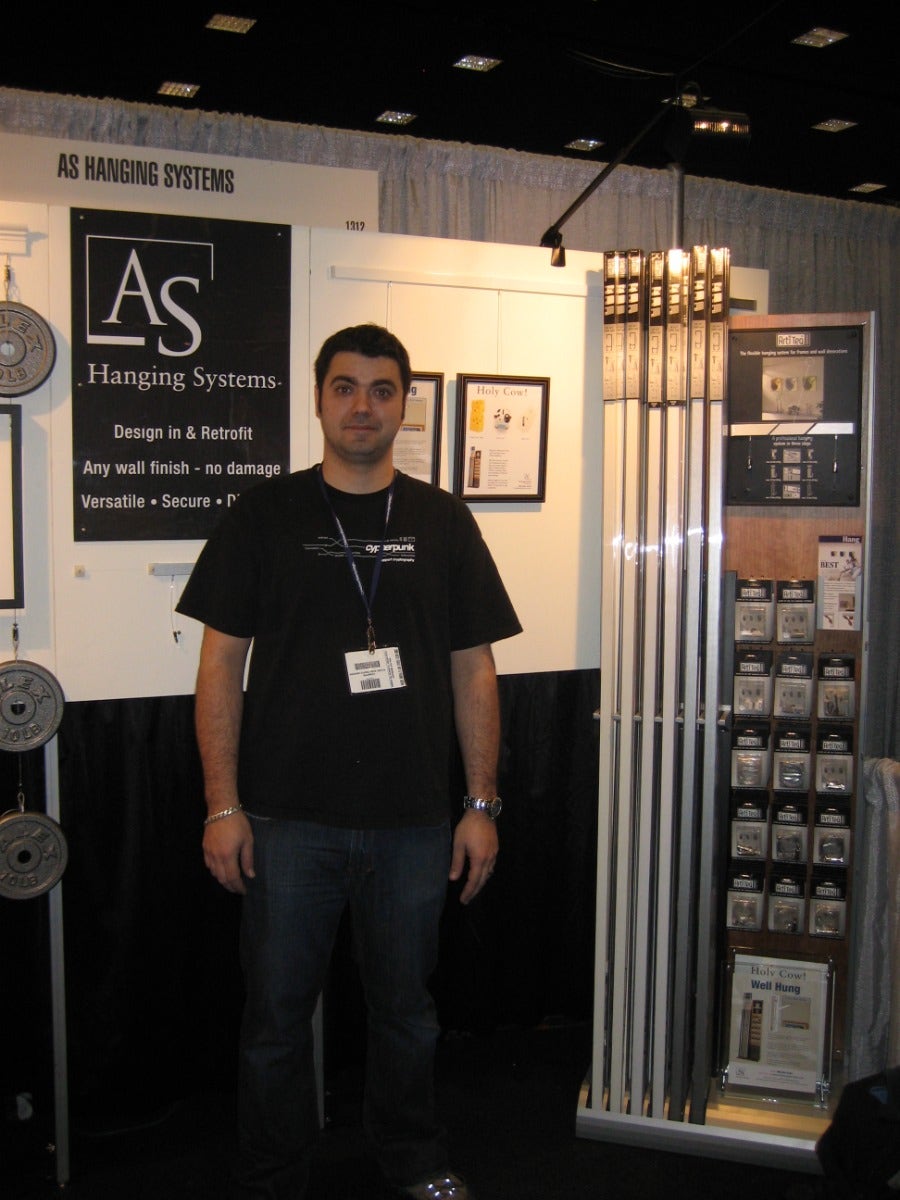 2012 viewed the emergence of the Hang with the Best® blog. The same year, we opened our Pinterest, Facebook, etc. accounts. Two years later, the Hang with the Best® blog reached its 100th entry. Our presence on social media such as Facebook, Twitter, Pinterest, LinkedIn, Instagram and YouTube, is ongoing and strongest than ever.
First videos published on YouTube date back to 2015. You can find tutorials about picture hanging systems, picture hanging hardware, art hangers, wall hooks, challenging installation, etc.
The 2017 year saw the company release a catalog titled "Residential Inspirations".
AS Hanging products were often imitated but never duplicated!
In 2009, we discovered many of our products and original designs had been sent to China and cheaply copied on behalf of a start-up US firm. The brand mark =AS= was first introduced onto cable assemblies, to distinguish genuine AS Hanging System parts from the inferior knockoff, and potentially dangerous, products. Intellectual property laws exist so competitors cannot steal creative ideas, names, or symbols from other businesses.

Good news in 2012, "Hang with the Best®", was developed and was granted trademark protection by the USPTO and immediately, the company began a blog by the same name.

Following the complete refresh of AS Hanging Systems logo and graphical presentation in 2014, we have officially been granted copyright by USPTO in 2021 for this new logo.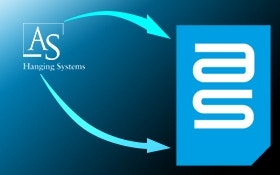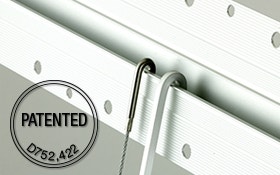 ---
We have always put high-quality products and customer satisfaction as our top priorities.

Breadth of product lines, quality of solutions, and professional service enable the company to continue leadership in providing unique picture hanging systems and picture hanging hardware.

Thank you for being a part of our journey, we look forward to serving you for many more years to come! Here's to another 40 years of Top-Quality Solutions!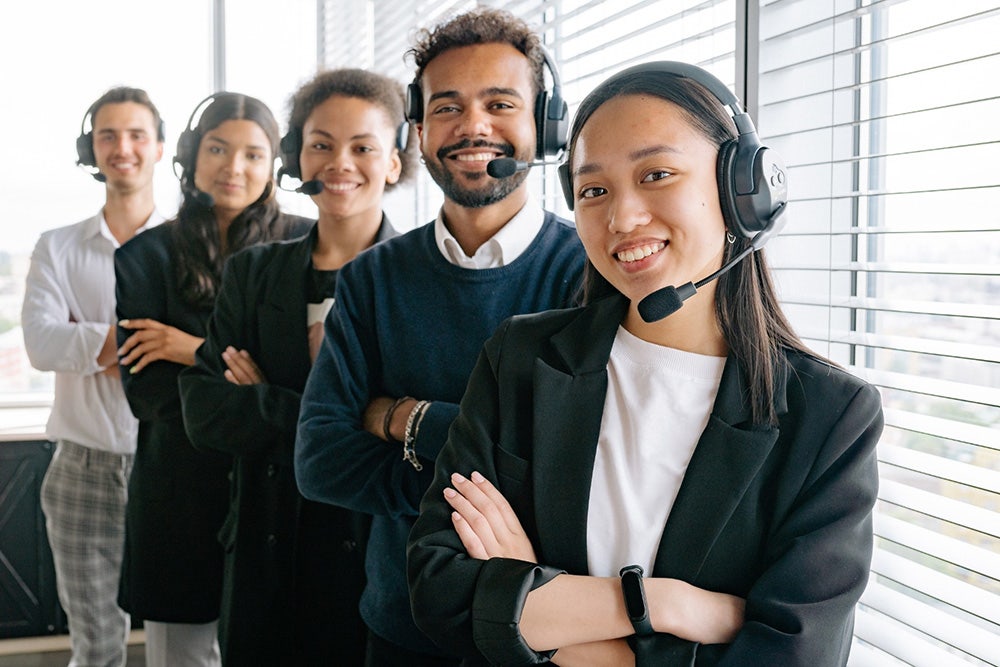 ---