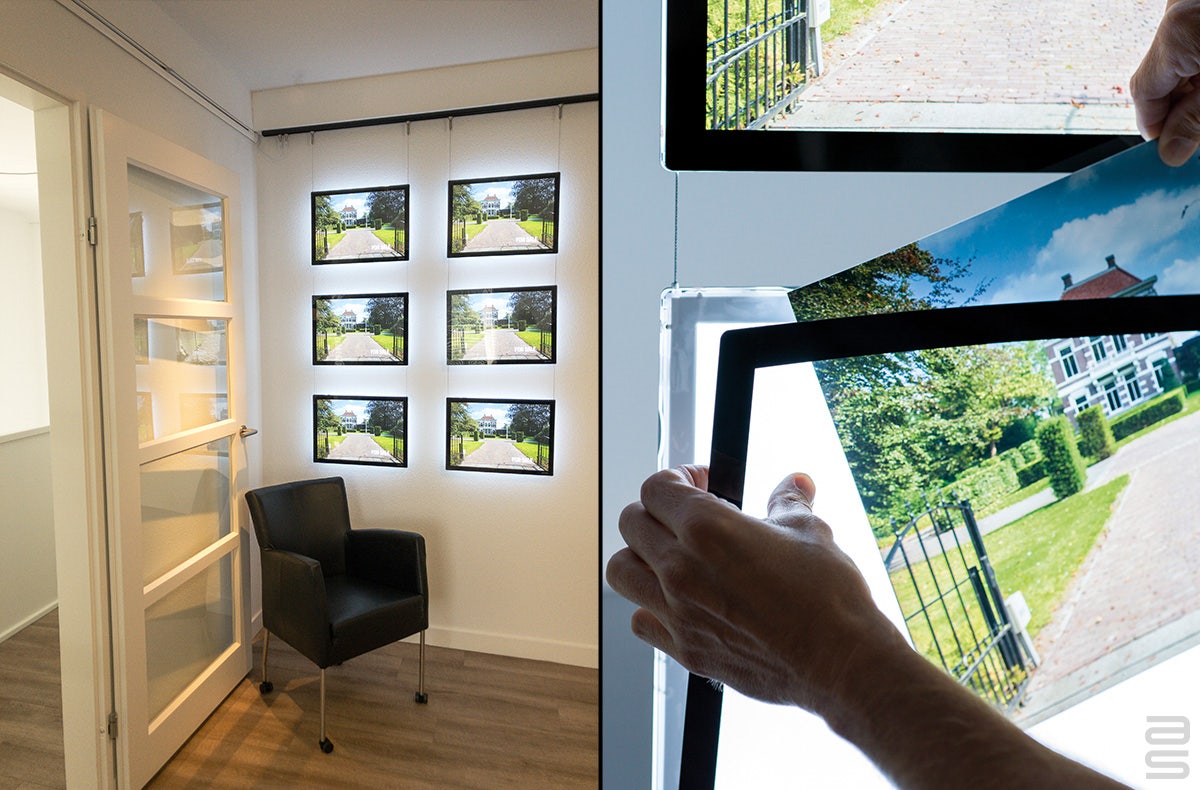 Make a statement with double-sided Display It LED Panels!
This suspended cable system allows multifunctional double-sided displays: translucent paper can be inserted into the front and back of the LED panels. Ideal display system for projects where the images and information must stand out day and night! Amazing and professional way to present products, services, pictures, documents.
The track can be mounted on the wall or the ceiling. The adaptors are twisted into and out of the track in an instant, allowing flexible use of the system. The steel cables run through an auto-grip mechanism through the LED panels, connecting these together. The LED Panels are easy to mount and adjust.
Display It LED Panels are offered in Letter (8.5x11) and Tabloid (11x17) formats and can be installed in either horizontal (landscape) or vertical (portrait) orientation and have clear LED lighting. Change the contents of the LED Panels in seconds.
Detail : Starter kit contains one (1) Display It Track, one (1) Cable Hanging Kit, one (1) Power Kit, one (1) Letter (8.5 x 11) LED Panel, #6 x 1.25" screws, TripleGrip™ anchors, two (2) End-Cap
Installation Surface : Straight Wall, Straight Ceiling

Detail : Starter kit contains one (1) Display It Track, one (1) Cable Hanging Kit, one (1) Power Kit, one (1) Tabloid (11 x 17) LED Panel, #6 x 1.25" screws, TripleGrip™ anchors, two (2) End-Cap
Installation Surface : Straight Wall, Straight Ceiling

Detail : Starter kit contains one (1) Display It Articulated Piers Set, one (1) Power Kit for Articulated Piers, one (1) Letter (8.5 x 11) LED Panel, #6 x 1.25" screws, TripleGrip™ anchors
Installation Surface : Ceiling, Floor, Wall

Detail : Starter kit contains one (1) Display It Articulated Piers Set, one (1) Power Kit for Articulated Piers, one (1) Tabloid (11 x 17) LED Panel, #6 x 1.25" screws, TripleGrip™ anchors
Installation Surface : Ceiling, Floor, Wall