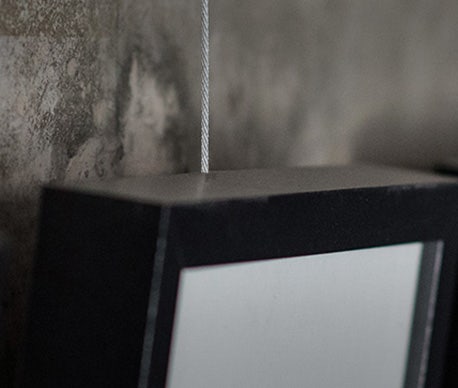 AS Hanging offers a wide range of picture hanging wires, strong stainless steel aircraft cables or discreet nylon cords. Select the suitable picture hanging cables to display your artwork and pictures.
Our steel aircraft cable is rated to support 45 lbs, and constructed with 49 strands, using a 7 X 7 pattern.
Transparent cords are manufactured from a single nylon strand and is rated for 15 lbs.
Picture hanging wires are offered in various lengths, so they are easy to use and create a sleek look in any space. Numerous picture hanging cables are patented.
Browse your options and find the aircraft cables and nylon cords best suited for your application.
Weight Capacity : 15 lb (7 kg) per Nylon Cord, 45 lb (20 kg) per Steel Cable
Compatible with : Classic Ceiling Track, Classic Wall Track, Contempo® Track, Display Reveal

Weight Capacity : 15 lb (7 kg) per Nylon Cord, 45 lb (20 kg) per Steel Cable
Compatible with : Click Rail Track, Deco Rail Track, Drop Ceiling Track, Shadowline Ceiling Track, Shadowline Wall Track, Up Rail Track

Weight Capacity : 15 lb (7 kg) per Nylon Cord, 45 lb (20 kg) per Steel Cable
Compatible with : Classic Ceiling Track, Classic Wall Track, Contempo® Track

Weight Capacity : 6.5 lb (3 kg) per attachment
Compatible with : Click Rail Track, Up Rail Track

Weight Capacity : 15 lb (7 kg) per Nylon Cord, 45 lb (20 kg) per Steel Cable
Compatible with : Click Rail Track, Xpo Rail Track

Weight Capacity : 150 lb (68 kg) per attachment
Compatible with : C-Hanger, Short/Long Fixed Pier, Grid-Ceiling Wall Hanger, Panel-Top Hanger

Weight Capacity : 15 lb (7 kg) per Nylon Cord
Compatible with : C-Hanger, Short/Long Fixed Pier, Panel-Top Hanger

Weight Capacity : 15 lb (7 kg) per Nylon Cord, 45 lb (20 kg) per Steel Cable
Compatible with : Flex Panel-Top Hanger, Panel-Top Hanger, Picture Molding Hanger