Recently we received some photos and a quick note from one of our customers about how she implemented our Click Rail Track in her home office. She wanted to hang one of those typical wall calendars - you know the ones, picture on the top half, calendar on the bottom half - without putting nails in her wall or taking up valuable wall space for a simple calendar.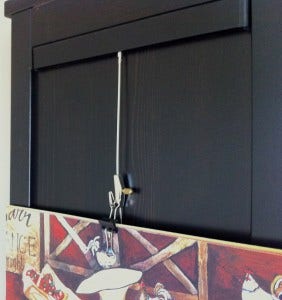 Adding two End-Caps gives the track finished, clean edges, looking quite like it was an original piece of the bookcase. A Twist-End Cable fitted with a Multi-Purpose Hook allows for the position, height and side-to-side orientation, of the calendar to be easily adjusted to fit the space and allow for perfect visibility. As you can see in the photo above, a standard binder clip is used to hang the calendar from our Multi-Purpose Hook. This makes it easy to flip the calendar page when a new month rolls around without any tears or damage to the calendar pages.

There is no need to cut the cable to length. Just roll any extra length behind the calendar, as you see above. Why roll up the extra cable? You ask? This allows for greater flexibility in the future should the wall calendars need to be moved to a lower position. The cable is ready to be used. Again, ease of functionality is clear when a cable system is implemented. Also, we supply cables that are fused at the end. This prevents them from fraying, so we recommend against field cutting a cable if it can be avoided.
This simple approach for how to hang wall calendars is clean, purposeful, and versatile. I LOVE it! Thanks to our customers, we're learning fun new ways of using our products for home and business applications.
Do you have a creative wall hanging applications story you'd like to share with us?
We'd love to hear your ideas!
If you have questions or would like to learn more about how our products can be beneficial in your project, please contact our Customer Support at info@ashanging.com or give us a call at 866 935-6949 (toll free).
When you hang with AS Hanging Systems, you Hang with the Best®