Fixed Piers Tensioned Kit
Art & Picture Hanging Systems
Professional & easy install solution for any spaces to create display, space divider, etc. Fixed Piers are used to attach tensioned cables to ceilings and floors to hang arts, plexiglass sheets, etc.

IN STOCK

See full product description »
Finish : Anodized Machined Aluminum
Includes : Fixed Pier Long, Fixed Pier Short, Barrel-End Stainless Steel Cables 120 in (10 ft)/305 cm or 240 in (20 ft)/610 cm, Cable Stop, Spring, Allen Key, #6 x 1¼ in. screws and TripleGrip™ anchors, #6 x 2 in. wood screw, Wing toggle anchor
Installation Surface : Ceiling, Floor
Weight Capacity : 150 lb (68 kg) per pier
Cable Presentation : Tensioned
Product Details
Display panels, art pieces, plexiglass sheets, and so much more from any type of solid ceiling/floor or opposite horizontal surfaces (fixed attachment). Fixed Piers will only take up a small footprint space. Picture hanging kit reduces display tampering and mitigates earthquake damage. Easy-to-use, secure, durable and fashionable. Professional presentation. Fixed Piers Tensioned Kit is offered in black or silver piers. The matched color mounting plates are optional but highly recommended to give a beautiful look to your installation. The cables can be trimmed to length on site, during installation. It is recommended to order a Cable Trim Kit to ease installation. Only for use with steel cables and never with Nylon Cords.
AS recommended by leading experts and your neighbors!
Let us ASsist you with your project!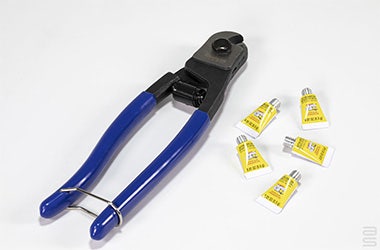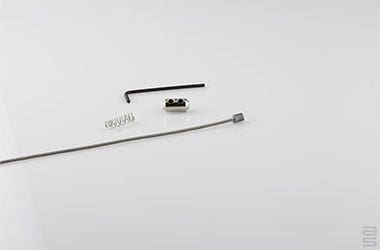 NEXT STEP,

CHOOSE YOUR HOOKS & FITTINGS
Complete your artwork hanging systems with high-quality picture hanging hardware. Choose from various Picture Hanging Hooks and Panel Hooks to hang any framed art, 3D objects, panels, mirror, glass, etc. Our hooks are available in side-screw & self-gripping options. The cable fittings clamp onto the edges, sides, top and bottom, of an unframed object.
Technical Specifications
SKU U5580
Material Aluminum
Finish Anodized Machined Aluminum
Includes Fixed Pier Long, Fixed Pier Short, Barrel-End Stainless Steel Cables 120 in (10 ft)/305 cm or 240 in (20 ft)/610 cm, Cable Stop, Spring, Allen Key, #6 x 1¼ in. screws and TripleGrip™ anchors, #6 x 2 in. wood screw, Wing toggle anchor
Capabilities Earthquake Mitigation, Anti-Theft, Secure
Installation Surface Ceiling, Floor
Weight Capacity 150 lb (68 kg) per pier
Cable Presentation Tensioned
Installation Skill Do-It-Yourself
Product Marking =AS=