Having recently updated my own kitchen, visiting many kitchen showrooms in the process and experiencing the monotony often encountered during the shopping experience, I'm thrilled to share with you a recent Customer's Corner story that uses an entirely different approach to kitchen cabinet displays and the custom kitchen design showroom process.
Armoires Cuisine Action, located in Boucherville (QC, Canada), provides custom kitchen cabinet and bath services to the greater Montreal market. Their well-executed implementation of a hanging system installation clearly steps outside the art hanging arena, devising a practical and efficient approach to a better customer hands on experience. After all, choosing cabinets is a commitment. It is a major purchase and one that has significant impact on the value and use of what for most is our largest asset - our home. Interacting with our kitchen cabinets will occur countless times each day, not to mention throughout every day as long as we live in that home. During the decision making process we want the ease and ability to match a product to our other design choices, such as flooring, countertops, paint swatches, etc, but we need to know that the cabinets we choose will have the proper feel as well as functionality and appearance. The use of a hanging system provides the opportunity for showroom customers to touch and feel, while creating an inviting and aesthetically pleasing space in what is often mundane and mediocre.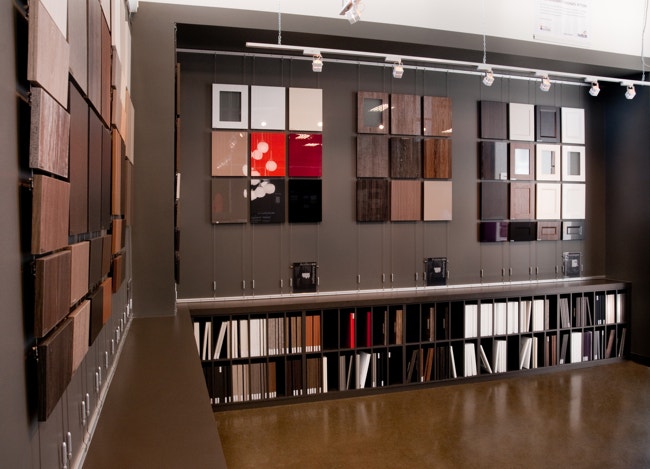 This is not mundane and mediocre! To show or present the various finishes and door/drawer styles that are available, one of each style is on display and hanging from one of several walls. Additional samples are located in the bins below. These can be removed and carried to other areas of the showroom to match up with countertop materials or taken home and reviewed within the actual space or to a flooring showroom, for example.
This hanging system is comprised of tensioned cables. The cables are held in tension with P-End Cable Tensioners, spanning two runs of Wall Track, one above and one at the counter level.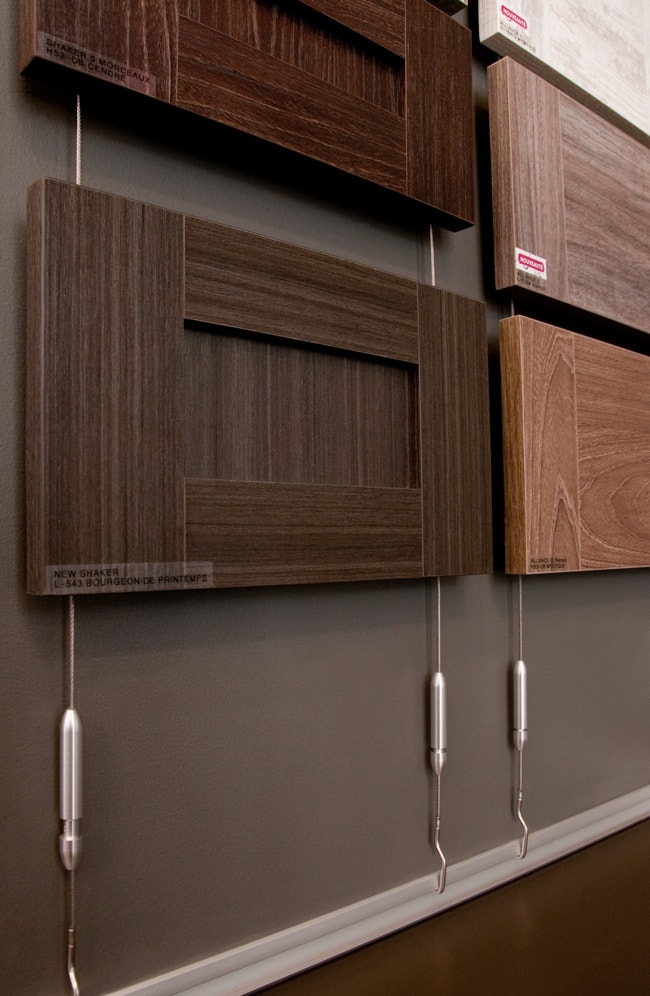 The cabinet face samples are attached to the system by using Mini Hooks, which connect to D-Rings attached to the rear side of the panels.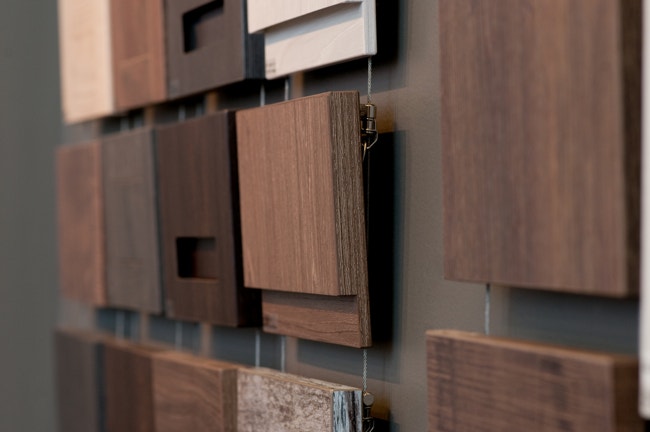 The samples are arranged into groups. Each group is identified by means of a placard that is placed in the lower right-hand area of each group. These placards are also displayed using specialty fittings from AS Hanging Display Systems. These include Acrylic pockets and Side Clamps.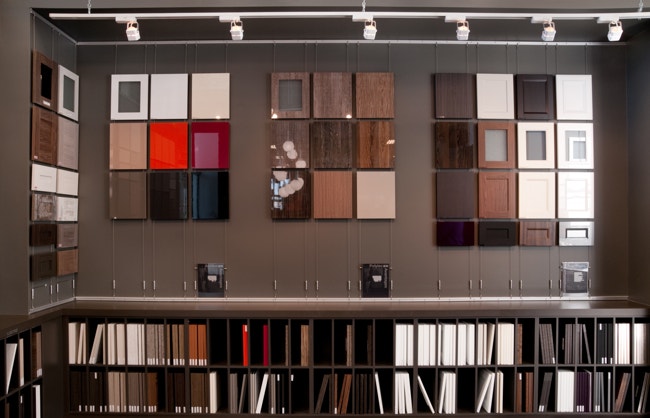 The entire system is quite flexible and allows the complete display to be reset or rearranged with no tools and/or damage to walls. This allows the showroom manager to feature a particular product group or product family and change offerings as new finishes become available or as style and preferences change. In total there are three wall segments that have received this treatment. Over 70 samples are on display but total capacity is beyond that quantity.
We were so impressed with this set up when we visited the showroom, we queried the owner to gain more insight into how this change has impacted their ability to present product to their customers.
" Our samples of cabinet doors were displayed and screwed on large panels that we had to re-order and re-install each time there was a new collection of doors that came in, or simply when new colors arrived. The holes left behind on these panels prevented us from moving doors as we wanted, even if there was just one to change.
This new system showcases our products and allows us to now quickly reshuffle the arrivals of new collections and colors. We save a lot of time and money since we can now move any or all of the rows and columns quickly and as many times as we wish, without the need of replacing the expensive wood panels.
The look is considerably more aesthetic and professional, and reflects the image that Action Cuisine wants to portray. Considerably more than the nail and screw system we were using before. "
The display area at Action Cuisine is a classic representation of how to create a showroom or retail display without nails or recurring damage to display walls. Not only is damage avoided, the expense of replacement costs and labor for repairs is greatly reduced and potentially eliminated. We thank Armoires Action Cuisine for sharing their story and for providing us with yet another opportunity to share with our readers just one of the vast applications available when a hanging system is implemented.
Do you have a showroom or retail space with a particular display challenge?
Could it benefit from an enhanced and customer-friendly makeover?
If you have questions or would like to learn more about how our products can be beneficial in your project, please contact our Customer Support at info@ashanging.com, or give us a call at 866 935-6949 (toll free).
When you hang with AS Hanging Systems, you Hang with the Best®