We are so excited to share with you this story by one of our customers, Mr. Twigg, of Twigg Musique, located in Montreal, QC. While we can give you the background of his retail merchandising challenge, and his creative solution, these pictures truly are worth a thousand words.
Mr. Twigg wanted to optimize his square footage and had attempted to use several other techniques to display musical instruments in the windows and throughout key areas of his store but found each had serious limitations. That is when he turned to AS Hanging Display Systems.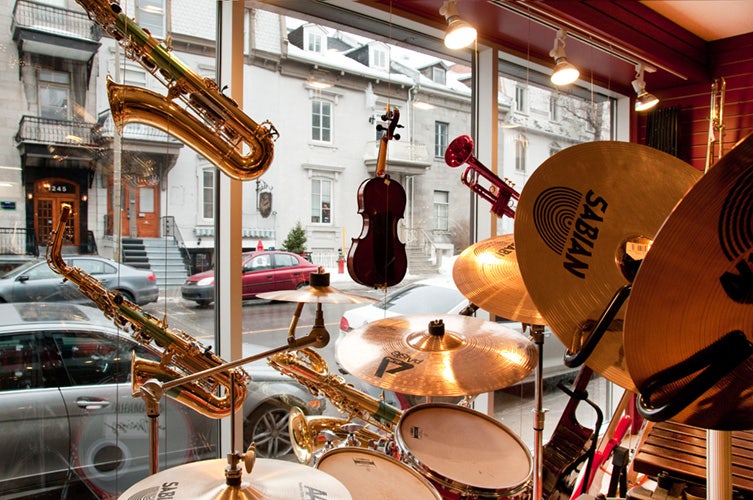 ---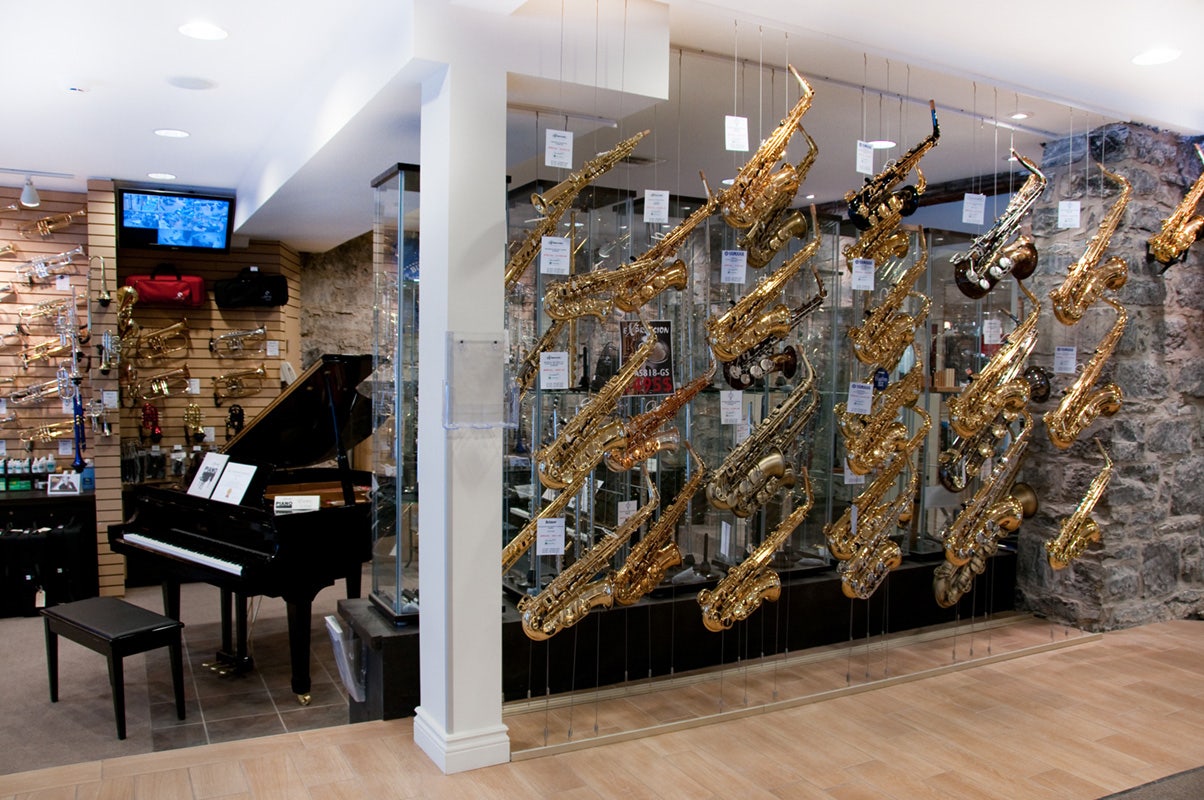 ---
Mr. Twigg had three objectives for is Retail Window Display and is entire store:
He wanted to display these objects in areas or on surfaces of his store that were not conventional display surfaces. All of the typical display areas had been fully utilized and for some time. See the background slat wall in the next photo.

The solution had to allow instruments to be displayed at any level (low, mid, high) to facilitate large displays.

Of course, in his situation, the retail merchandizing solution needed to display unconventionally sized/shaped objects (trumpets, violins, trombones, saxophones, what have you) and be very versatile.
In this application, Classic Ceiling Track, mounted to the ceiling and to the floor, is used to achieve the goals mentioned above. Cables, tensioned between these tracks, provide the structure to create a hanging display with a look of instruments floating in the air.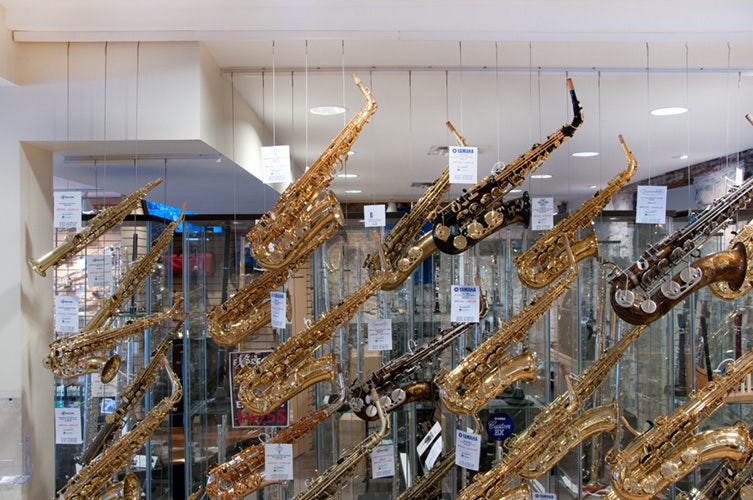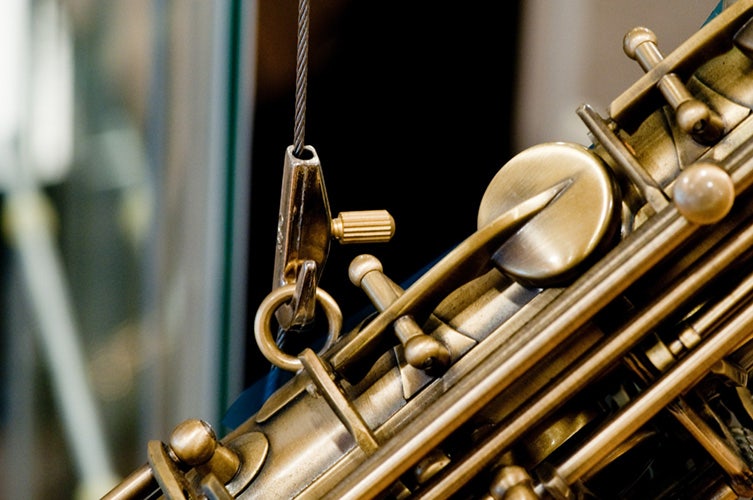 It is installed in a closed face manner to both viewing sides, which greatly downplay and hide the fasteners. You can also see how the P-End Cables are so very discreet where they hook onto the track.
This beautiful shot shows how saxophones are easily supported with our Multi-Purpose Hooks. The hook simply attaches to the ring where the musician would connect his/her neck strap.
As you may have noticed in the title image, various retail merchandising is displayed with this system. Many do not have strap hangers as part of the instrument.
---
Here, a trumpet is securely attached with the same Multi-Purpose Hook by using a couple zip ties to create the needed point of attachment. It is a Music to your eyes! Not to be outdone by the trumpets, these colorful trombones are conveniently displayed along the side of an alcove. The instruments are visible from the alcove and approachable from within the store. Again you will be able to detect the Classic Ceiling Track used above the window on the ceiling and below the display, on the floor.
Cleverly executed for the retail window display, the upper track is white to match the ceiling, while a Silver Satin finish on the lower track causes it to blend into the aluminum window surround. This customer has ingeniously used our Classic Ceiling Track to create an architectural hanging system that results in a unique, efficient, and very eye-popping display application. Wow, the beauty is in its functionality! We thank Mr. Twigg for sharing his retail merchandising solution with us. The pictures clearly tell the story and bring the music to your eyes.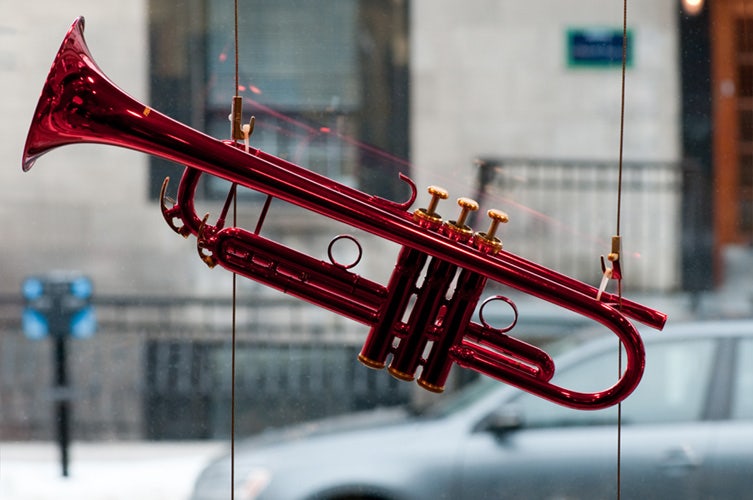 Do you have a clever or unique way of putting AS Hanging Display Systems to use? We'd love to hear – and see – all about it! Share your photos with us!
If you have questions or would like to learn more about how our products can be beneficial in your project, please contact our Customer Support at info@ashanging.com, or give us a call at 866 935-6949 (toll free) or at our local number 450 619-7999.
When you hang with AS Hanging Display Systems, you Hang with the Best®
---
The AS Hanging advantages