Top Clamp Tensioned Panel Kit
Art & Picture Hanging Systems
Top Clamp Tensioned Panel Kit to mount a panel, plexiglass or glass, to create a two-sided display. This Tension cable picture hanging system spans up to 16 ft from the top of your panel.

IN STOCK
See full product description »
Finish : Anodized Machined Aluminum
Installation Surface : Ceiling, Floor
Weight Capacity : 150 lb (68 kg) per pier
Cable Presentation : Tensioned
1

Pair (2) of Fixed Pier Sets, 10 ft - Silver Satin

2

Null-End Stainless Steel Cable, 72-in

4

Top Clamp
Product Details
Top Clamp Tensioned Panel Kits include everything that is needed to mount a panel, plexiglass, tempered glass, in tension between a ceiling and a floor with a pair of Fixed Piers. Think of this Tension cable picture hanging system as a partition wall, a two-sided display, a space divider, a Covid-19 protection barrier, etc. You may select the small, medium or large Top Clamps to attach your panel depending on its thickness. Supplied aircraft cables are of sufficient lenght to span a distance equal to the height of your display panel plus 16 ft. Cables are trimmed to length on site, during installation. Fixed Piers Hang from any type of solid ceiling and floor (fixed attachment) and only take small footprint space. Professional presentation. Easy-to-use, secure, durable and fashionable. Recommended by leading experts.
Each Tension cable picture hanging system includes the following:
Pair Fixed Pier, Point-to-Point Set:
Fixed Pier, Long (2x)
Fixed Pier, Short (2x)
10' Barrel-End Stainless Steel Cable
Cable Stop, Spring and Allen Key
(2x) #6 x 1¼ in. screws and TripleGrip™ anchors
(2x) #6 x 2 in. wood screw
Top-Clamp (choose from Small, Medium, Large) (4x) Null/Null Cable , 6ft. (2x)
Rated strength: 150 lbs. when installed with appropriate fasteners into structural wood engaged 1 inch or more into lumber. However, the weight capacity of an individual pier/steel cable may be as low as 10 lbs., or less (static load), depending on the mounting hardware and installation technique. Actual capacity is dependent upon the installation. It is the responsibility of the installer to select the correct fastener for a particular installation.
Contact us for your personalized solution at 866 935 6949 (Toll Free), We will be happy to help you! Feel free to send your drawings by email to info@ASHanging.com..
HIGHLY RECOMMENDED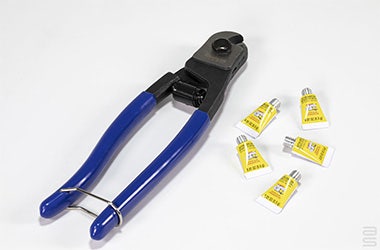 Technical Specifications
SKU U5145
Material 1.8mm Stainless Steel Cable, solid aluminum parts, nickel plating over brass parts
Finish Anodized Machined Aluminum
Installation Surface Ceiling, Floor
Weight Capacity 150 lb (68 kg) per pier
Cable Presentation Tensioned
Installation Skill Do-It-Yourself
Product Marking =AS=
Product Patented Patent Pending
Legacy Systems Families Not Applicable