Pro Side Clamp is used to suspend rigid panels in a vertical orientation from any of our cables/cords. Made from high quality aluminum and finished in a clear anodized for durability.
IN STOCK
See full product description »
Finish : Anodized Machined Aluminum
Includes : Clamp, Allen key, Nylon Tipped set screw (for panels), Cone Tipped set screw (for panels), Flat Tipped set screw (for cable)
Weight Capacity : 20 lb (9 kg) per attachment
Compatible with : Steel Cable
Panel/Object Type : Acrylic Pockets, Crushable Panels (Fluted PVC - Foamcore - etc.), Rigid Panels (Sintra - Metal Sheet - Wood - etc.)
Hook Activation : Manually Activated
Product Details
Pro Side Clamp is designed and used to mount and suspend rigid panels and display surfaces such as glass, signage, artwork, etc., in a vertical orientation from any of our cables/cords, but primarily from stainless steel cables. The product family consists of both single-sided and double-sided clamps. Many, if not most, installations require both types.
Pro Side Clamps are made from finely machined aluminum with a very fine brushed surface. Decor jewelry cable clamp. Then these are finished in a clear anodized surface to maintain these attributes for years.
These are the best side clamps available, anywhere.
The cable-slot bottom is rounded to protect against deforming the cable shape under pressure from the screw. The cable screw is also finished with a flat tip to again avoid damaging stainless steel strands.
These clamps allow you choices for panel attachment methods. Choose the nylon tipped screws against rigid, or even brittle, substrate. The nylon tipped screws will guard against damaging many surfaces.
Choose the cone tipped screws to dig into your panel material for a strong and secure grip. The screws will pass through the panels and securely land in a cavity for positive display mounting.
A pair of both nylon tipped and cone tipped set screws are supplied for mounting display panels. All set screws are made of stainless steel.
We offer Pro Side Clamps in small, medium and large. The small size and is compatible with panels 1/32" to 0.157" thick. The medium size is compatible with panels 1/32" to 1/4" thick. The large size is compatible with panels 1/32" to 3/8" thick.
This is the connection between a steel cable to clamp. With all the variables in display panel substrate we cannot anticipate the potential strength of the clamp/panel connection.
AS recommended by leading experts, and your neighbours!
Let us ASsist you with your project!
Technical Specifications
SKU H305X
Material Body: 6061 Aluminum | Set Screws: Stainless Steel
Finish Anodized Machined Aluminum
Includes Clamp, Allen key, Nylon Tipped set screw (for panels), Cone Tipped set screw (for panels), Flat Tipped set screw (for cable)
Capabilities Earthquake Mitigation, Anti-Theft
Weight Capacity 20 lb (9 kg) per attachment
Compatible with Steel Cable
Panel/Object Type Acrylic Pockets, Crushable Panels (Fluted PVC - Foamcore - etc.), Rigid Panels (Sintra - Metal Sheet - Wood - etc.)
Cable Location Cables Pass beside Panels, Double-sided Display
Hook Activation Manually Activated
Legacy Systems Families Cable System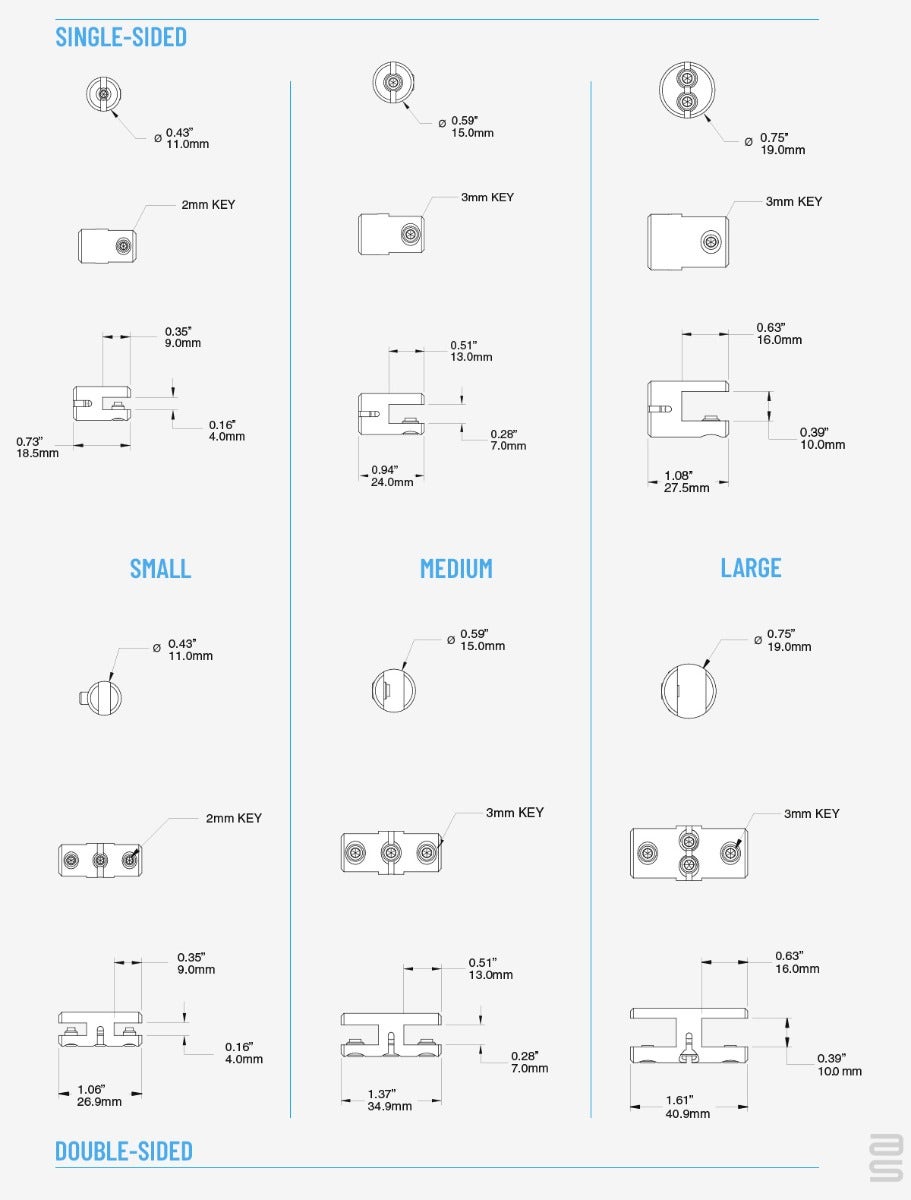 Panel Thickness Compatibility
 
SMALL
MEDIUM
LARGE
With Nylon Tip Set Screw
Min:. 1/16 in
Max:. 0.157 in
Min:. 0.13 in
Max:. 0.27 in
Min:. 0.27 in
Max:. 0.39 in
With Cone Tip Set Screw
Min:. 1/32 in
Max:. 0.157 in
Min:. 0.03 in
Max:. 0.27 in
Min:. 0.03 in
Max:. 0.39 in