How often do we say, or hear someone else saying, Wow, how times have changed? This may be a common utterance, especially the older we get or the farther away from something we're removed. And while it is often profoundly true, it never ceases to amaze me that as much as some things change, some seem to remain the same - whether the status quo is beneficial or not. Here's a classic case in point!
The front of a modern-day classroom bears little resemblance to one of 50 years ago.
Gone is the blackboard with its dusty erasers and brittle chalk, replaced by the white board, and then the interactive white board, video monitor and other electronic display devices. Everything has changed it seems, except for one.
The Cork Display Rail
Also called an art rail or map rail, the cork rail was introduced in the 1940s and was well established in the educational setting by the 1960s. Today it can be found in K-12 classrooms everywhere as designers and architects continue to specify cork rails for new school construction. Cork display rails have survived in the classroom for over a half-century because of their sheer simplicity and unmatched versatility, the same reasons why they're so difficult to replace. So any new display technology that isn't as simple or versatile as cork rail doesn't stand a chance in today's classrooms. And to finally end cork rail's reign, it would also have to excel in areas where cork rails fail!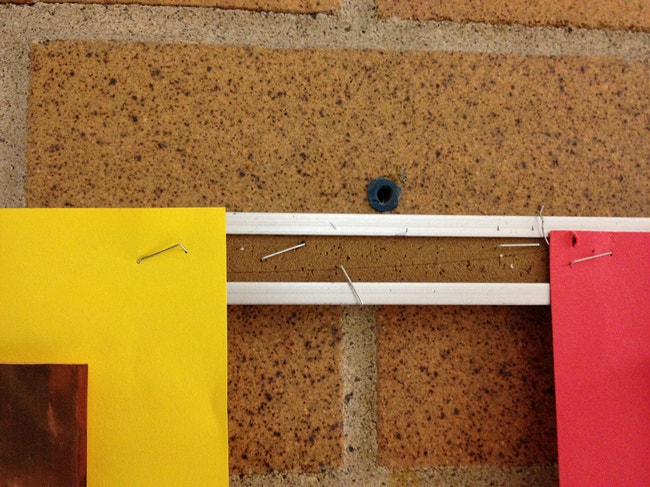 Safety - No more use of sharps such as pushpins, staples, or thumbtacks around curious, mischievous students.
Zero damage to displayed items - The treasured artwork or that prized "A" paper no longer being tattered at the corners when proudly displayed.
No hanging hardware to keep on hand to make the display rail work.
Expenses for Wear and Tear and replacement is eliminated.
Graffiti, or inappropriate markings on cork that cannot be removed, totally avoided.
So let's go to school on this!
How do we learn from our outdated status quo mistakes and give our schools and classrooms the "A" grade they can earn? We ditch the bad and bring in the good, the Casso® Display Rail. No more accepting cork rail fail as a passing grade. Casso Display Rail, please come to the front of the class. Comprised of an extruded aluminum housing with a removable insert, Casso Rail is as simple as the cork rail and far simpler than other display rails that have moving parts like hinged tops and metal rollers. Instead of cork, the Casso Rail uses a unique, proprietary, high-tech synthetic insert with two copolymer fingers that give it exceptional strength and versatility.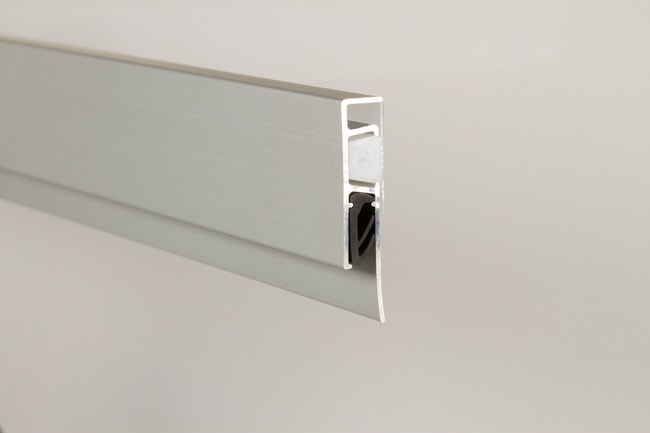 These copolymer fingers gently grasp paper as it's inserted between them and the aluminum housing and release it just as gently when it's removed. The thicker the item, the more firmly the fingers grasp, so they can support heavier items like maps. In fact, the entire Casso Rail can be considered a continuous map rail compared with cork rails, which typically require map clips to be purchased separately and attached at four-foot intervals.
By eliminating the need for sharps to hang an item, the classroom is a safer place for all. No chance for little hands, or mischievous ones, to get in harms way. Likewise, not only do fingers not get stuck, nor does children's artwork or notable papers. No more documents being pierced by pushpins or staples. Easy in, easy and clean out.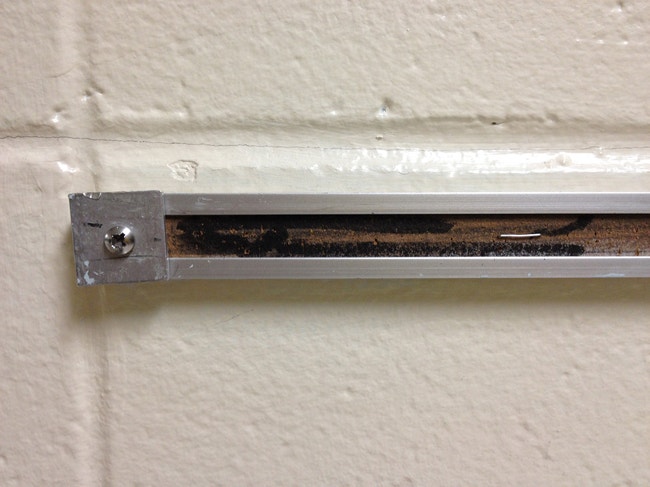 Want to keep the halls and classrooms free of graffiti and markings? Of course! While nothing is completely student-proof, Casso Rail is probably as close as it gets. Unlike display rails constructed of brittle PVC designed for low traffic, home and home-office use that can crack and chip, Casso Rails have a sturdy, aluminum outer shell that's difficult to damage. Their anodized and powder-coated surfaces also resist stains and graffiti, while a streamlined design makes them easy to clean and maintain.<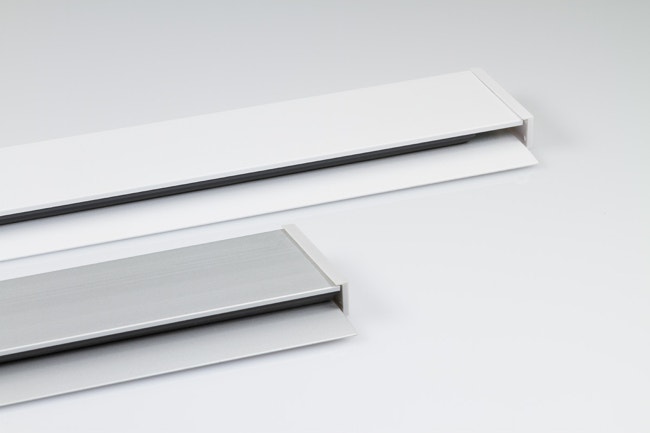 Installing Casso Display Rail is nearly as easy as changing children's displayed schoolwork. Just determine where you want the Casso Rail, drill holes, install the supplied anchors and mounting clips, then simply snap the rail in place. Holes previously drilled for cork rails may also be repurposed for Casso Rails when making the switch. And since Casso Rails are a bit wider than alternatives, there's frequently no need to pre-paint wall surfaces to mask shadow lines and cover blemishes caused by previous cork rail installations.
Casso Display Rails are shipped with everything required for installation and use and not just for basic installation on a standard surface or with adhesive backed tape like you get with lightweight products designed for non-commercial use. Casso Rail kits include end caps, mounting clips and universal TripleGrip anchors with the proper screws for making a solid connection on brick, cement, gypsum, plaster or ceramic surfaces. So why stick with cork rails that require an unending supply of unsafe sharps, are easily marred and damaged, deteriorate over time, and are costly and time- consuming to constantly repair and replace? Casso Rails are simple, safe, versatile, durable, complete and easy-to-install. Plus, with their streamlined design in a silver or white finish, they blend beautifully into today's contemporary classrooms.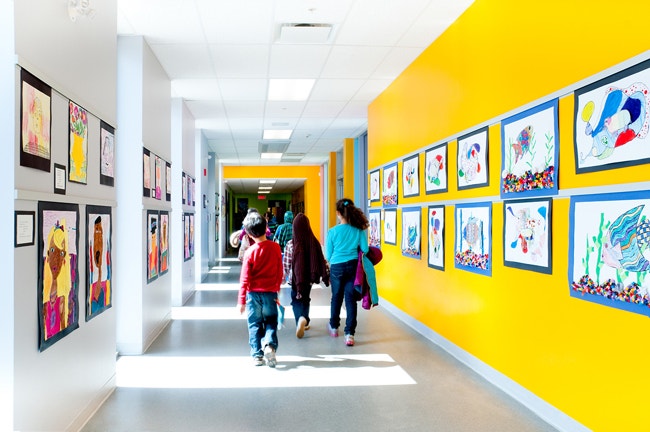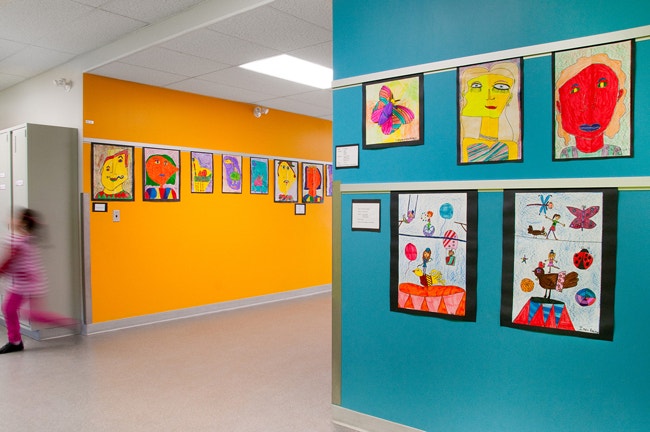 They're the newer, smarter solution that really makes the grade.
For a more comprehensive, in-depth coverage of Casso Display Rail, we'd like to direct you to download our white paper, When Cork Rails Fail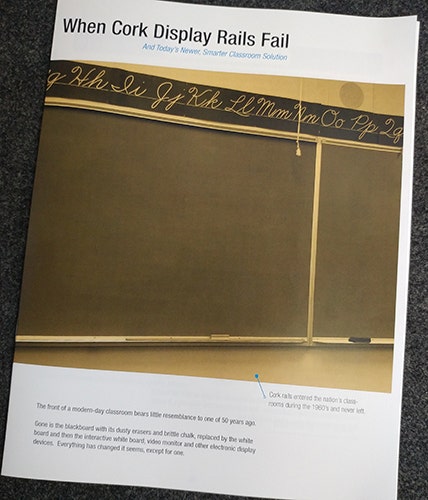 If you have questions or would like to learn more about using Casso Display Rails for replacing existing rails or specifying them for use in new classroom construction, please contact our Customer Support at info@ashanging.com, or give us a call at 866 935-6949 (toll free) or at our local number 450 619-7999.
When you hang with AS Hanging Systems, you Hang with the Best®