Art & Picture Hanging Systems
Contempo Track is the first and unique picture rail compatible with curved, convex, concave, serpentine and linear walls. Architectural look.

IN STOCK

See full product description »
Detail : Curved wall hanging solution, architectural look on straight walls; intended for serpentine, concave or convex install.
Finish : Anodized Silver, Champagne, Black | Natural (raw mill finish)
Includes : 9x Contempo Spacer, #6 x 2" colored screws (track color match) and TripleGrip™ anchors
Weight Capacity : 12.5 lb/ft (18 kg/m)
Track Length : 72 in (6 ft)/180 cm
Installation Surface : Curved and straight wall
Fastening : Exposed Fasteners
Compatible with : Cables, Rods
Cable/Rod Presentation : Suspended, Tensioned
Product Details
Contempo® Track is brilliantly compatible with linear, concave, convex and serpentine walls and will follow a radius as small as 6 inches. This intuitive and versatile picture rail supports 12.5 lb/ft (18 kg/m). Contempo Track is so flexible that you can hang wall decorations with Rod, Stainless Steel Cable, Nylon Cord or C-Hanger, letting you the choice of the design. Add and rearrange wall decoration in a second.
The sharp-looking standoff and the mounting screws, included with each track length, are painted to match the 4 offered track colors and create a sleek look.
Note:
The Natural color is actually mill finish, the raw state of aluminum as extruded, generally shiny in appearance and will have mill marks or lines from the extrusion process. The natural finish should be fielding painted prior to installation. Both the track and spacers will oxidize if they are left unfinished. If you prefer an aluminum finish, please select Silver Satin finish.
Hang with the Best®
AS recommended by leading experts and your neighbors!
Let us ASsist you with your project! 1-866-935-6949
TRACK ADD-ON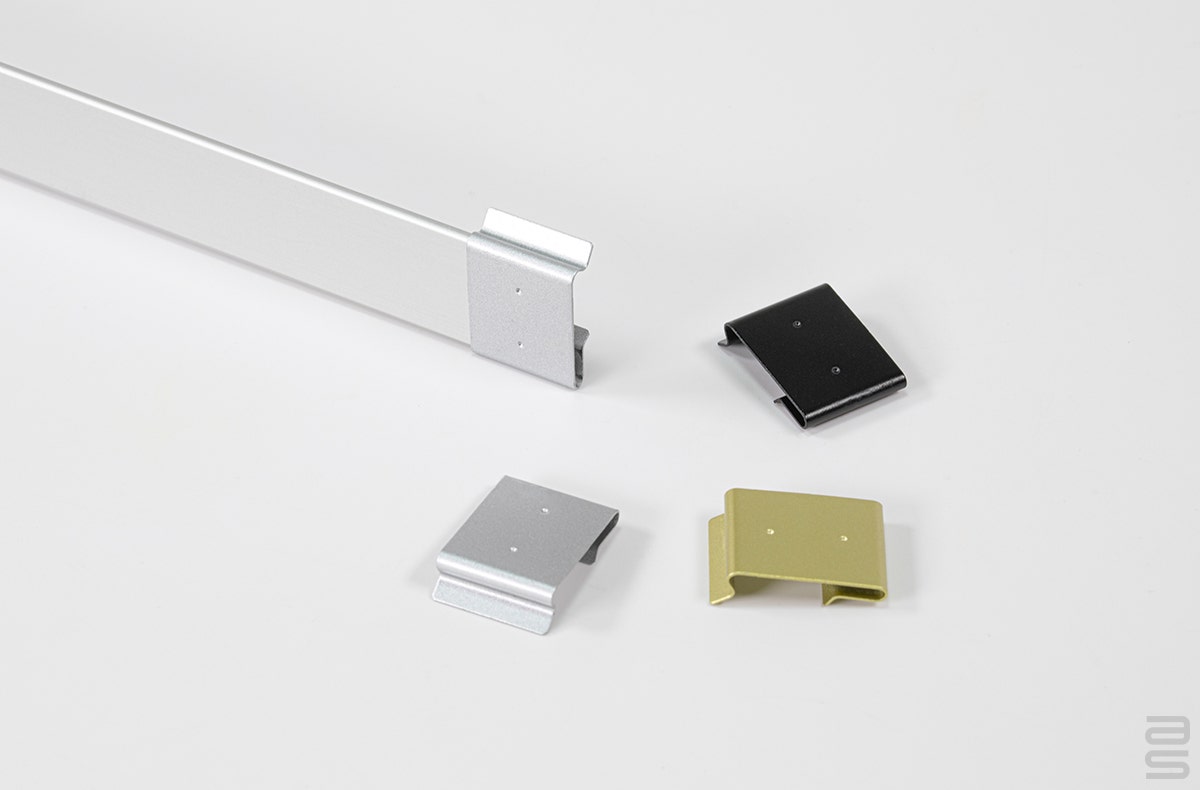 Technical Specifications
SKU U5600
Material Extruded aluminum track
Finish Anodized Silver, Champagne, Black | Natural (raw mill finish)
Includes 9x Contempo Spacer, #6 x 2" colored screws (track color match) and TripleGrip™ anchors
Weight Capacity 12.5 lb/ft (18 kg/m)
Track Length 72 in (6 ft)/180 cm
Installation Surface Curved and straight wall
Mounting Style Surface
Fastening Exposed Fasteners
Installation Skill Do-It-Yourself
Compatible with Cables, Rods
Cable/Rod Presentation Suspended, Tensioned
Vertical Element Compatibility P-End Cable, P-End Cord, C-End Cable, C-End Cord, P-End Cable Tensioner, Tensioning Spring, P-End Rod, P-End Stainless Steel Rod, J-End Stainless Steel Rod
Accessory Compatibility Contempo® Track Connector
Product Patented Patented
Product Patent Number D623,045
Product Marking =AS=
Legacy Systems Families Contempo System