Classic Ceiling Tensioned Kit
Art & Picture Hanging Systems
Professional & easy install solution for commercial, residential and institutional use. Strong ceiling mount track used to display panel, 3D objects, etc. Create window display, space divider, etc.

IN STOCK

See full product description »
Finish : Anodized silver, champagne, black | Painted warm white (satin)
Includes : Classic Ceiling Tracks, P-End Cables, P-End Tensioners and color matched installation hardware
Weight Capacity : 25 lb/ft (37 kg/m)
Track Length : 72 in (6 ft)/180 cm
Installation Surface : Straight Ceiling
Fastening : Exposed Fasteners
Compatible with : Cables
Cable/Rod Presentation : Tensioned
2

Classic Ceiling Track

2

P-End Stainless Steel Cable

2

P-End Cable Tensioner
Product Details
Classic Ceiling Tensioned Kit is perfect to display panels, art pieces, 3D objects, and much more from any type of solid linear ceiling/floor or two opposite horizontal surfaces. Easy-to-use, secure and durable. Create window display, space divider, etc. Professional presentation.
Tensioners made from high-grade materials are a sleek, strong, and trendy architectural hardware to tension panels, art pieces, 3D objects, and much more with aircraft quality cable between top and bottom tracks. The Tensioners are provided complete with a lower cable and Twist-End fitting. The Tensioners are short and installed low and away from the line of sight. To tighten the cable, simply screw the two halves together. AS Hanging Tensioners reduce display tampering and mitigate earthquake damage.
The cables can be trimmed to length on site, during installation. It is recommended to order a Cable Trim Kit to ease installation. Only for use with steel cables and never with Nylon Cords.
AS recommended by leading experts and your neighbors!
Let us ASsist you with your project!
HIGHLY RECOMMENDED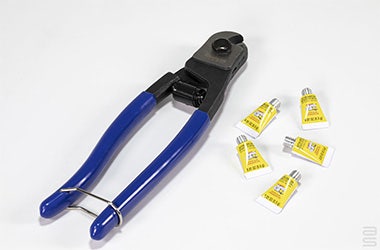 ---
NEXT STEP,

CHOOSE YOUR HOOKS & FITTINGS
Complete your artwork hanging systems with high-quality picture hanging hardware. Choose from various Picture Hanging Hooks and Panel Hooks to hang any framed art, 3D objects, panels, mirror, glass, etc. Our hooks are available in side-screw & self-gripping options. The cable fittings clamp onto the edges, sides, top and bottom, of an unframed object.
Technical Specifications
SKU W5140
Material Extruded aluminum track
Finish Anodized silver, champagne, black | Painted warm white (satin)
Includes Classic Ceiling Tracks, P-End Cables, P-End Tensioners and color matched installation hardware
Weight Capacity 25 lb/ft (37 kg/m)
Track Length 72 in (6 ft)/180 cm
Capabilities Earthquake Mitigation, Anti-Theft, Secure
Installation Surface Straight Ceiling
Mounting Style Surface
Fastening Exposed Fasteners
Installation Skill Do-It-Yourself
Compatible with Cables
Cable/Rod Presentation Tensioned
Vertical Element Compatibility P-End Cable, P-End Cable Tensioner