Remember back to your teenage years when your walls were smattered with posters of your favorite teenage passion, whether it was rock bands, fast cars, hot girls, hot boys, your favorite sport, what have you? Remember marring that cool poster with all those thumbtack holes or torn corners from putting the posters in just the right spot, only to move them when a new passion or poster was added to the collection? And the holes in the walls, and tape residue that just wouldn't peel off of the paint - or would take the paint with it? Well, your penchant for plastering posters all over your room may have changed, but posters are forever. Maybe, now you're thinking of your college student's dorm room? It needs posters, right? Don't pay a damages fee just because your kid needs some style of his/her own.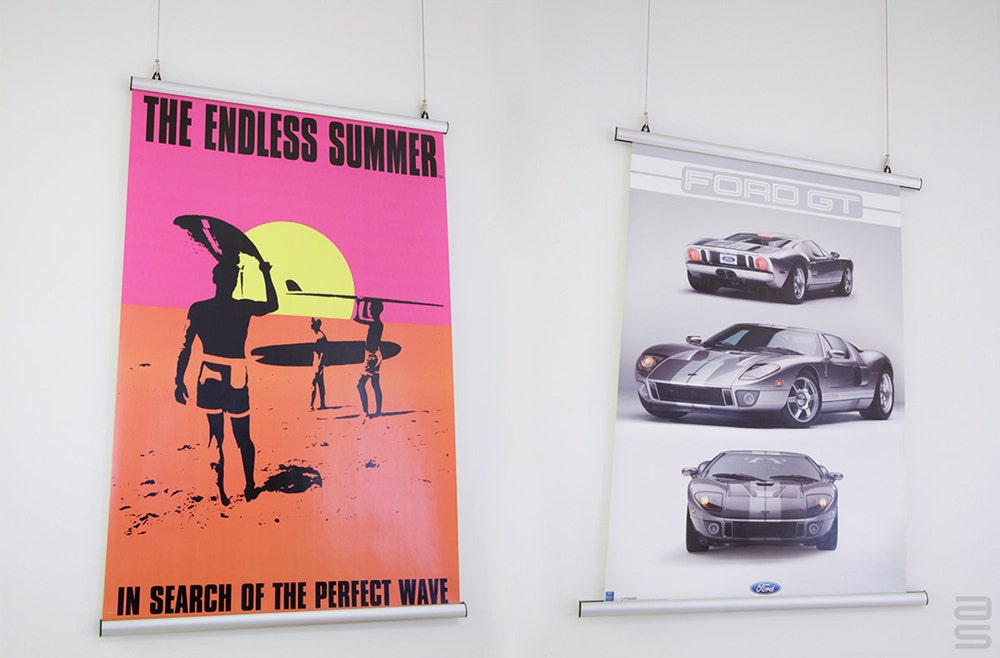 Posters are everywhere. They are used in residential settings, retail spaces as display signage, even convenience stores. And movie theatres? They're plastered with movie posters pimping the latest, and upcoming, releases. My point? The subject matter may change, but posters are here to stay. So we need a better, safer, less damaging and more aesthetically pleasing way of how to hang posters. Thumbtacks, pushpins, and tape are out...
The Poster Hanger is in!
The Poster Hanger is perfect for the business environment too! Use a Poster Hanger in corporate centers for announcements, seminars, product presentations, safety programs, etc. It's an efficient way to display transitional signage that needs to remain undamaged but is alternated frequently. And since the top and bottom rails are independent of one another, this hanger can accommodate various lengths of posters and signage.
The Poster Hanger works equally well to post larger pieces of unframed juvenile art in schools and libraries, and for general announcement broadsides, such as those promoting community events, sports, even community performing arts centers.
Now you can support most any poster from any of our rod or cable-based systems. Yay! No more damage to your casual art piece. And I can't forget to mention that the Poster Hanger takes the curl out of your favorite posters! Curls are great if you're talking about waves, but a bummer when trying to hang a poster!
As shown in the image above, you see there are two pieces to the Poster Hanger, a top rail and a bottom rail. Here is a close up view.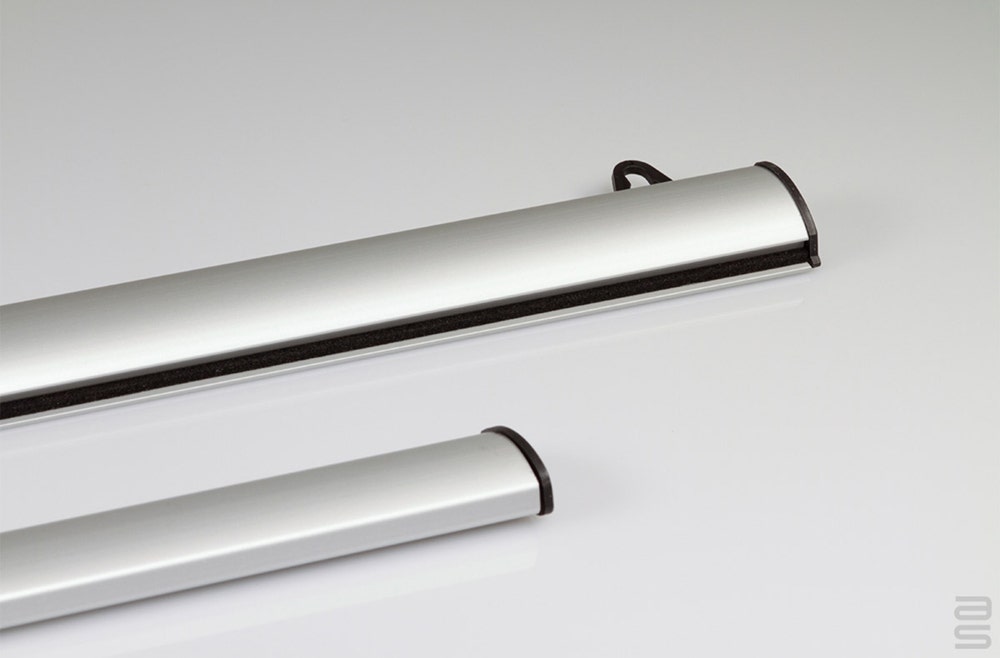 Top rails are equipped with two keyhole hangers, which may be adjusted along the width of the rail to your preference.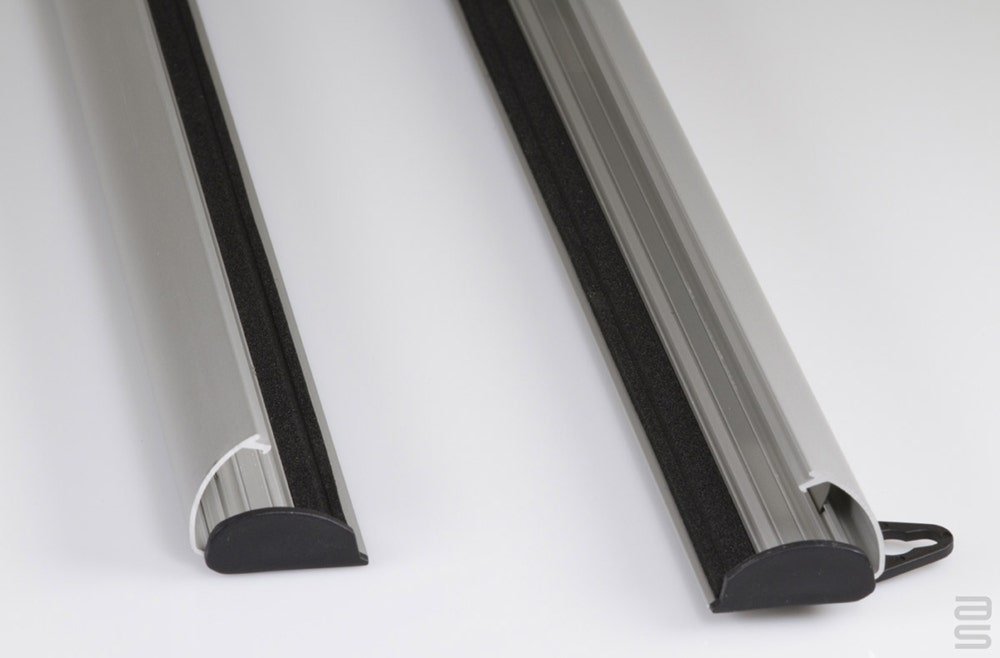 Simply open the hinged bottom rail and attach it to the poster first, to arrest the curling. Then attach the top rail in the same process.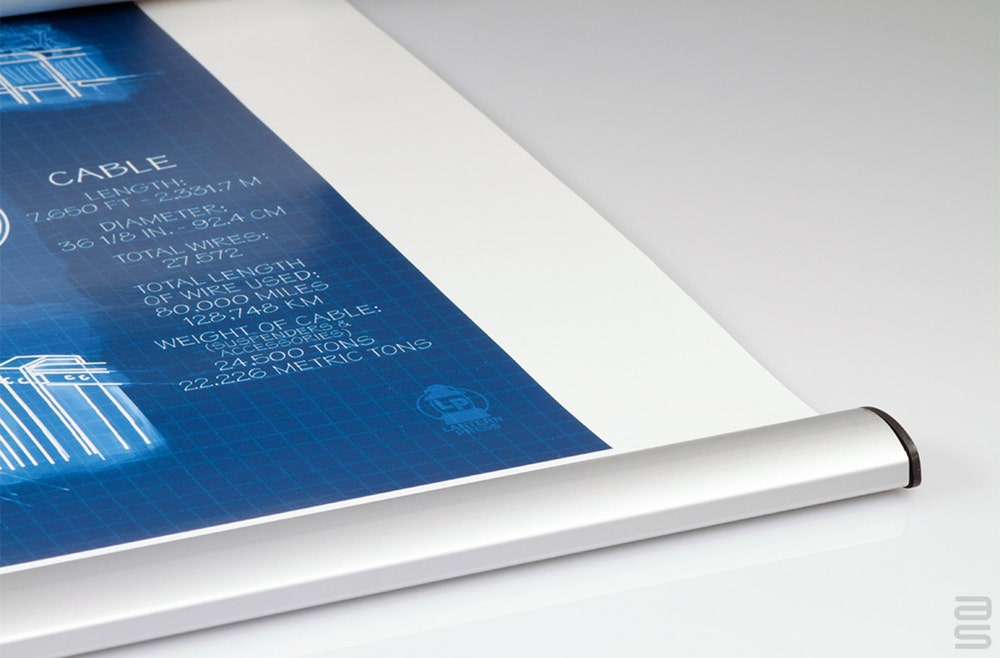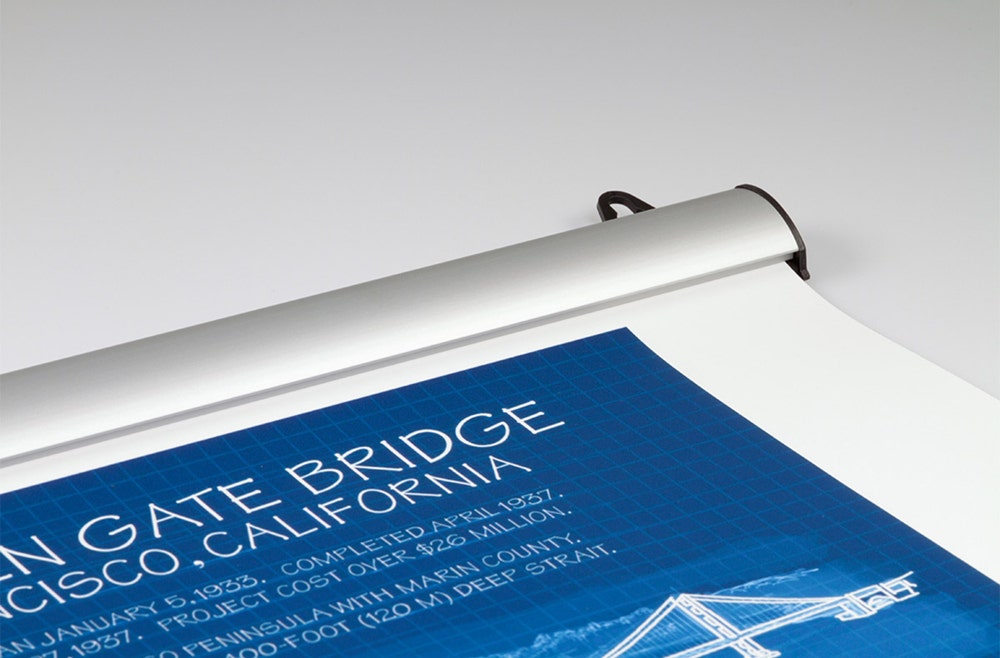 Now attach the poster assembly to our systems using a compatible hook, such as the Multi-Purpose Hook. Adjust the height of the hooks to your preference. It is that easy. The Poster Hanger is available in four sizes to accommodate most common poster sizes up to 40 inches in width. The rails are finished in a clean satin anodized finish to compliment most interior design concepts.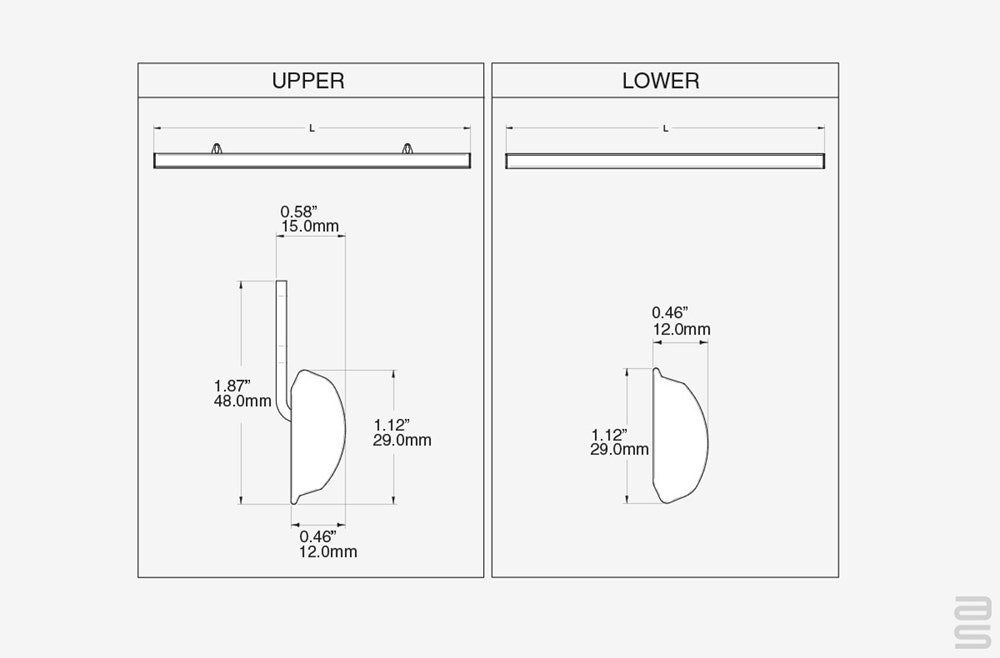 The Poster Hanger includes the top and bottom rails, four (4) end-caps, and two (2) hangers.
I'm suspecting that with all this talk about posters, you'll soon be realizing they're in places you never even realized. I'm not into the teen themed posters for my home any longer, but these national park posters will be finding the perfect location in my game room. A great way to celebrate the 100th Anniversary of the National Park System. Thank you John Muir!
What will you be fixating on? More importantly, what will you be affixing to your walls?
If you have questions or would like to learn more about how our products can be beneficial in your project, please contact our Customer Support at info@ashanging.com, or give us a call at 866 935-6949 (toll free).
When you hang with AS Hanging Systems, you Hang with the Best®