THE TIMELESS

ELEGANCE OF BLACK
---
In design, the color black blends harmoniously with any decor. Black is sleek and contemporary. It is the color that absorbs the sunlight the most, unlike white which reflects it. The color black is recognized for its versatility and adaptability.
Rich color, appreciated for its versatility and elegance
The color black gives character to a room and also brings a modern dimension. It has the ability to create atmospheres that are minimalist, intimate and sophisticated. AS Hanging Display Systems, inspired by the world of architecture and design, and advised by its partners and customers, has developed a range of black colored products for all hanging and display projects. Hanging and display rails, architectural elements like Fixed Piers, as well as vertical suspension elements such as rods or cables have been created to bring black to the foreground in each of your rooms.
At home
The color black fits with all the rooms in a house, whether in a kitchen, a bedroom, a bathroom or a living room, it gives a modern effect. Black components give character to a room. Installing black Wall Tracks against a wall will be a contemporary addition and a real eye-catcher. The black Click Rail Track is discreet, versatile and so elegant! The Classic Wall or Ceiling Tracks will blend into your decor while creating a touch of modernism and richness. Create breathtaking decors with the Click Rail Tracks. Easy to install and use, our hanging systems are safe in addition to being design and useful!
---
In the office
Give character to your office space, conference room, reception and waiting room! Black is a sophisticated color. It symbolizes class, elegance and a sense of style. Solidify the trust of your customers and partners because black also represents wealth, health and prosperity. Choose from our black hanging rails to hang pictures and wall decorations without damaging your walls.
The black Casso® Display Rail will be the most stylish and useful wall organizer you will ever install! In addition to helping with the organization of paperwork, it highlights them and makes them easy to reach. Important documents of your daily work life are enhanced with the beauty of the photos of your loved ones that you will display on the black Casso® Display Rail. Black is stylish, useful and safe. The black Casso® J Hooks will blend into the rail and will be of great use for hanging keys, caps, etc.
---
In the Lobby
For your waiting room or reception area, choose the black wall mounted Magazine Rail. Your space is thus immediately more serene and orderly. Ideal for waiting rooms and offices, but also for daycares and hotel lobbies. No more messy piles of magazines. The Magazine Rail organizes newspapers and magazines in a very attractive way. Ideal in black for a modern interior, attentive to detail and feeling.
---
Create your ultimate trendy space today.
Bring the elegance of black into your projects with Casso® Display Rails,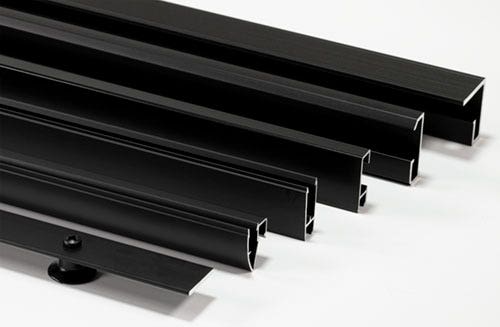 Fixed Piers allow you to suspend art, panels, acrylic pockets, etc. Create a wall or a division in your space.