Tensioned Ceiling Tracks - Covid-19 Protection Kit - Hanging System for Plexiglass / Glass
Art & Picture Hanging Systems
Professional, quick and easy install solution for retail and hospitality. Our Tension cable picture hanging system allow you to mount a panel, plexiglass or glass, to create a two-sided display.

IN STOCK
See full product description »
2

Classic Ceiling Track

2

P-End Stainless Steel Cable

4

Top Clamp

2

Null-End Cable

2

P-End Cable Tensioner
Product Details
Our Tensioned Ceiling Tracks Covid-19 Protection Kit Hanging System for Plexiglass and Glass includes everything that is needed to mount a panel in tension between a ceiling and a floor with a pair of Classic Ceiling Tracks with P-End Stainless Steel Cables,Top Clamps and P-End Cable Tensioners.
This tension cable picture hanging system hangs plexiglass, acrylic sheets or glass panels from any type of solid ceiling and floor (fixed attachment). The Classic Ceiling Track is a strong rail that supports up to 150 lbs without any structural installation. Professional presentation. Easy-to-use, secure, durable and fashionable. Recommended by leading experts.
Retail solution to help you control the spread of the Covid-19. Create a safer environment for your employees and customers. The plexiglass will help everyone keep a safe distance during the current Covid-19 situation.
AS Hanging Display Systems has put together a professional, quick and easy install solution for all environments where clients and staff interact, including retail stores, hairdressers, restaurants, gyms, grocery stores, clinics, and much more.
HIGHLY RECOMMENDED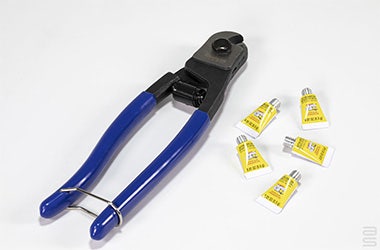 Because of the nature of the materials used and to reduce risk of damages on delivery, we have chosen to let our clients provide their own protective panels. We have a complete line of products compatible with ANY of these, whether it be acrylic panels, Plexiglass, Tempered Glass, right up to Sintra boards and foam core substrates!
It is more cost effective to obtain your own material, size and thickness you want directly. Hardware stores offer these, so you can choose directly from their inventory, according to your specific installation while you are there.
Call us at 866-935-6949 for details! We will be happy to help you!
Our Top Clamps are compatible with acrylic panel / plexiglass up to 1/2 in. thick, for Glass Panel follow these guidelines.
Options depend on your type of ceiling and the weight (size) of plexiglass sheet you want to use, the Classic Ceiling Track is a strong rail that supports up to 150 lbs without any structural installation.
It's recommended to order a Cable Trim Kit to ease installation.
Plexiglass / Acrylic Thickness vs Weight (4 x 6 ft. sheet)
| | | |
| --- | --- | --- |
| Thickness | Weight | Compatible with |
| 1/4 in. | 45 lb | Top Clamp, Small or Medium |
| 3/8 in. | 65 lb | Top Clamp, Large |
| 1/2 in. | 85 lb | Top Clamp, Large |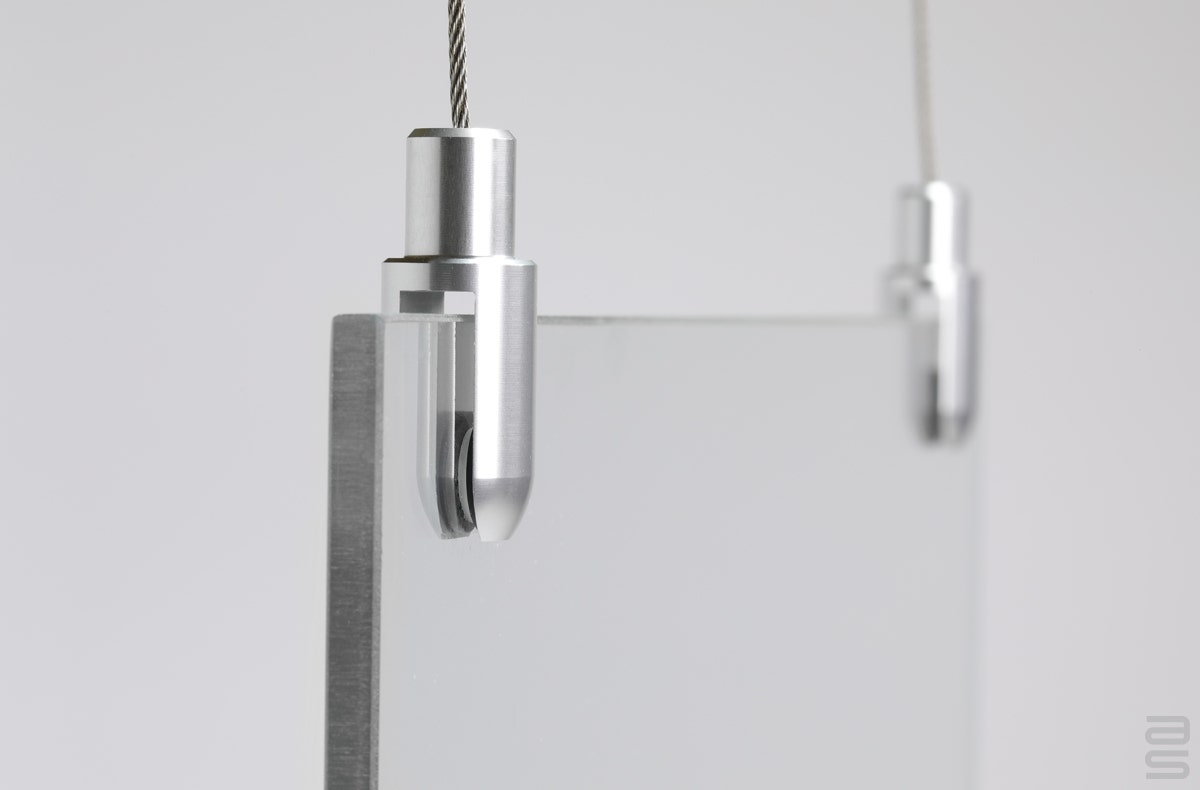 Top Clamp through-hole diameter
| | |
| --- | --- |
| Product | Hole Diameter (without bushing) |
| Top Clamp Small | 3/16 in. |
| Top Clamp Medium | 3/16 in. |
| Top Clamp Large | 1/4 in. |
Technical Specifications
SKU W5045
Legacy Systems Families Not Applicable
Product Marked No