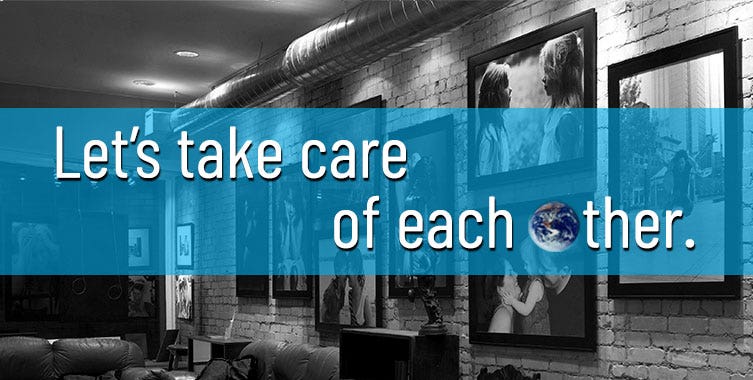 In these complex times of the global Covid-19 crisis, we realize that one of the most difficult thing is not being able to communicate between each other. Social distancing, confinement or fear of illness can lead us all to loneliness. May it be physical or emotional.
Today, AS Hanging Display Systems would like to say something to you we feel important to voice: Let's communicate.
---
Take the time to smile to passers-by on the street and at cashiers in shops, etc. Remember to observe a 6-foot (2-meters) preventive distance, for the safety and health of everyone.
Yesterday, a client sent us photos of a little experiment she tried with her children. She took a 6-foot casso-display-rail that she had just purchased from our website. She used it to exhibit her children's works of art that all this new time away from school had now allowed them to create! It now made them prolific in drawings and crafts! She used the whole length of the Casso Display Rail to illustrate the social distance they had to now respect due to the Covid-19 crisis. Pictures are worth a thousand words!
Take care of your loved ones by calling them or using video conferencing to make them feel that much closer.
Chat 5 minutes with your neighbor from balcony to balcony. Contact a community association if you feel alone.
We are here to provide you with the best service, and a lending ear if you need it. Do not hesitate.
Let's take care of each other. Let's communicate.
---